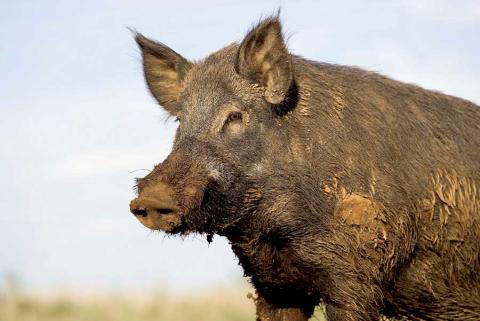 Feral Hog Hunts
2023–2024 Feral Hog Hunts information is now available.
Learn about obtaining permits for the 2023–2024 hog hunts on District lands. Registration starts October 3. If you plan on applying for a permit, add WaterMatters.org/HogHunts to your browser's favorites or bookmarks.
2023–2024 Hunting Season Dates
For complete hunting season information, please check the Florida Fish and Wildlife Conservation Commission (FWC) website.  You can view a list of District properties with limited access during the 2023–2024 hunting season.
2023–2024 Hunting Season Limited Access »
Potts Preserve Non-Wildlife Management Area (WMA) Hunt Area Notice
The Potts Preserve non-WMA public use area will no longer require a Southwest Florida Water Management District hunting permit. Non-WMA public use area hunting will be open year-round in accordance with applicable state regulations and state zonal seasons (with these exceptions per District rules: no dogs; no night use; and no trapping).
FWC Wildlife Management Areas
More than 137,000 acres of District lands are available for hunting as wildlife management areas. These areas are cooperatively managed by the District and the Florida Fish and Wildlife Conservation Commission (FWC), with the District serving as the lead manager. Brochures containing information on hunting seasons and regulations as provided by the FWC.
Other District Lands Within Your Sights
Special District-managed hunts of various types are also periodically offered on lands that are not wildlife management areas. Many District lands provide quality habitat for game species and contain abundant populations of deer, turkey and small game. A variety of hunting opportunities are available to the public.
From regular quota, small game and special opportunity hunts to hunts for the mobility-impaired, almost everyone can enjoy hunting on District lands. All lands open for hunting are listed in the right hand column of this page. Information on hunting seasons and regulations can be obtained from the FWC web site or through its regional offices.
How to contact us:
Land Use and Protection Section (LND)  
Southwest Florida Water Management District  
2379 Broad Street, Brooksville, FL 34604-6899
Telephone: 1-800-423-1476 (toll-free, FL only) or (352) 796-7211, ext. 4470  
Fax: (352) 754-6877  
Email: Recreation@WaterMatters.org