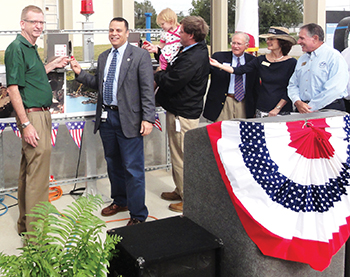 Community leaders flip the switch on the new phase of the pipeline project.
The Peace River Manasota Regional Water Supply Authority has completed another connection in its regional loop system, which greatly benefits the City of Punta Gorda.
The agency recently dedicated the completion of the Phase 1A Interconnect Pipeline Project. The project spans the Peace River and includes nine miles of pipeline, a high-service pump station, and water storage to provide regional water delivery to Charlotte County and the City of Punta Gorda.
The completed phase is part of a larger regional loop system to install about 100 miles of pipeline connecting supplies and demand centers in Charlotte, DeSoto, Manatee and Sarasota counties. The plan would provide a reliable, sustainable and affordable water supply for residents in the four-county area and provide for economic development in the region.
The District provided $12 million, about 60 percent of funding, for the Phase 1A interconnect. Governing Board Chair Paul Senft attended the dedication ceremony.
"This is all about the power of partnership and how we can work together toward shared interests for the common good," Senft said. "These projects must use water from a diverse mix of sources and these sources must be interconnected to allow the water to be managed efficiently."
The project will maximize surface water for public supply, provide a reserve for emergency transfers and better match supply, demand and financial investment on a regional basis. The project will also provide alternatives to the development of groundwater in the Southern Water Use Caution Area where water resources are critical.