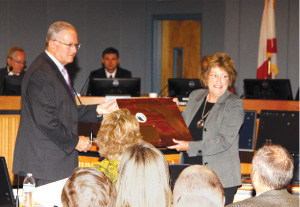 Whitehead was recognized at the November Governing Board meeting.
Judy Whitehead was recently recognized for her years of service on the Governing Board.
"Everyone on this Board is fully dedicated and passionate about what they do," Whitehead said during the recognition. "I'm very honored to have worked with them."
Whitehead was appointed to the Governing Board in March 2003 and has served as Governing Board chair, vice chair and secretary. She also served as chair of the District's Coastal Rivers Basin Board.
Whitehead is a state-certified real estate appraiser.
The native Floridian has spent most of her life along the coast in west-central Florida. Prior to real estate appraising, she sold real estate for eight years. Her family is originally from Citrus County.
Whitehead reflected on all she accomplished during her time with the District.
"Not bad for a little grandmother from Brooksville," she said.