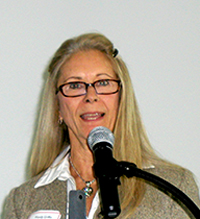 Governing Board member Wendy J. Griffin.
From the lot they parked on to the prairie landscape they walked by, guests were surrounded by the messages of water conservation.
Archbold Biological Station recently unveiled its new education exhibits and signs during a dedication ceremony. The facility, located in Highlands County, is a not-for-profit independent research institution in central Florida. The station is dedicated to long-term ecological research.
The expansion was made possible through the District's Cooperative Funding Initiative in an effort to protect and conserve water resources.
Governing Board member Wendy Griffin attended the dedication ceremony.
"Those involved in the partnership had a vision of creating a unique place where visiting students and scientists from around the world could see how water functions both in Archbold's unique scrub environment and in these new facilities," she said.
The signs and exhibits around Archbold show how the buildings' special features — like rainwater cisterns and high-efficiency fixtures — save water. For example, the parking lot is not made of traditional pavement and instead uses a surface that allows rain water to soak through the ground. This reduces stormwater runoff and helps refill the aquifer.
As a result of these indoor and outdoor water saving features, the Francis Archbold Hufty Learning Center and Adrian Archbold Lodge are certified as Florida Water StarSM properties, using about 45 percent less water than similar buildings.
Griffin said the expansion will add to the station's already successful mission.
"These leading scientific experts, along with educational interpreters and creative exhibit teams, have worked together to make learning here at the center a personal and entertaining experience," she said.