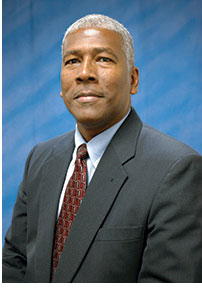 Bobby Lue, Utility Services Program Manager
For 27 years, Bobby Lue has tackled environmental and water issues for several agencies including 12 years at the District. In that time, Lue has learned the balance between conservation efforts and community needs.
Now, he's using that experience to head up the District's Utility Services Program. The program was designed to strengthen communication with public supply utilities.
Traditionally, the District has used regulation and cooperative funding to manage and influence water management decisions. The Utility Services Program works to enhance cooperation by communicating key programs the District offers as well as allowing the District to learn about specific challenges that utilities face.
"I worked with many of these utilities in my previous position so it was a natural fit because I already had relationships with them," he said.

Lue directs four regional teams made up of staff from the Regulatory, Water Resources and Public Affairs bureaus. Those teams work together to provide the needed services to the utilities.
That includes helping them to:
Understand requirements and qualify for 20-year water use permits.
Understand cooperative funding requirements and opportunities.
Utilize District tools at a local level; for example, GIS-based demand projection model.
Identify District contacts for specific programs.
Learn from experiences of other utilities throughout the District.
Know what programs are offered by the District.
Lue sees real benefits to the program, which he said is more efficient.
"It really does help us understand each other," he said. "They don't always understand all the services the District provides. Plus, we better understand the challenges they face."
Lue also was appointed by Gov. Rick Scott to the new Study Committee on Investor-Owned Water and Wastewater Utility Systems. The committee will identify issues of concern associated with investor-owned water and wastewater utility systems and research possible solutions.
"We will focus on the small, investor-owned utilities which are dealing with rising costs and infrastructure issues," Lue said. "We hope to identify the issues and recommend some solutions."
Visit WaterMatters.org/Utility for more information about the Utility Services Program.