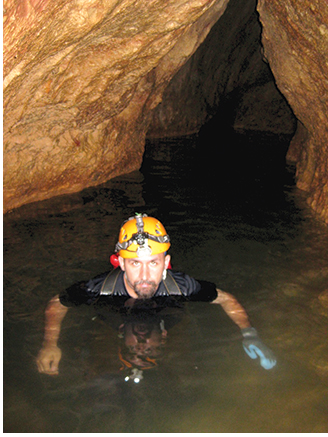 Photo Courtesy Jason Polk
Beneath your feet exists a part of Florida few ever see but all should value.
Deep below the earth's surface, caverns have formed by water seeping into cracks and slowly dissolving the rock below. Over thousands of years, these voids become larger and create sinkholes and caves. That water can flow into disappearing streams, and underground rivers and then flow back up to the land surface as springs.
These features are filled with unique views of stalactites, bats, insects and other subterranean dwellers that attract cave divers from around the world.
But cave diver and scientist Jason Polk searches for more than spectacular views. His journey takes him to the primary source of the state's drinking water, a precious resource that needs protecting.
Polk is the Associate Director of Science for the Hoffman Institute at Western Kentucky University and Vice President of the Karst Conservancy. The Karst Conservancy is a national group dedicated to protecting vulnerable karst landscapes and the caves beneath our feet that are connected to springs and groundwater. Karst is a geologic term used to describe regions characterized by sinkholes, springs, caverns, disappearing streams and underground rivers.
Locally, Florida residents celebrated their springs during the District's Springs Awareness Week. The event, which ran Sept. 14–22, combines two county events: Save Our Waters Week in Citrus County and Swimsuits to Hiking Boots in Marion County.
Residents were informed about actions they can take to protect the precious springs during a series of tours and other educational events.
"Events like these are important to residents and visitors to the area because they provide unique experiences to listen and speak with agencies, organizations, and individuals working to preserve, restore, and interpret Florida's amazing natural resources," said Nicky Aiken, Park Services specialist at Rainbow Springs State Park.
With more than 1,000 springs in the state, Florida has the largest concentration of springs in the world. These springs collectively discharge more than 8 billion gallons of water daily statewide from the Upper Floridan aquifer. Some of the largest springs form the headwaters of several major rivers in the District.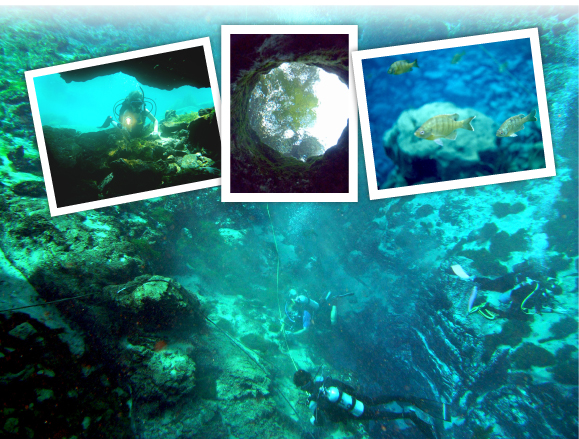 Photos Courtesy Keith Kolasa
A spring is a natural outflow of water directly from the aquifer to the surface, supplying flow to a river or other water body. Springs form when groundwater, which is under pressure, flows up through a natural opening in the ground.
Polk studies areas like these and actively works to protect them. He explores sinkholes and other karst landscapes like those found in Citrus County to learn about the conditions of the water and how surrounding surface activities affect them.
Polk said his cave visits demonstrate the relationship between people, land, water and the aquifer. On a recent trip through a Florida sinkhole, Polk came upon a blue-green pool of water.
"Despite the water's cool and refreshing appearance, running tests for nitrates revealed the levels exceeded drinking water standards, and the water contained high levels of phosphate and other contaminants," he said.
Those increased levels are likely due to a variety of surface activities:
Fertilization — Too much fertilizer applied to landscapes seeps past the roots of grass, plants or trees and into the aquifer or runs off into streams, lakes or bays. Use Florida-Friendly Landscaping™ tips such as: follow package directions, use slow-release fertilizers, sweep up excess fertilizer and don't fertilize before a heavy rain.
Septic Tanks — Septic tanks not properly maintained can pollute the groundwater that ultimately emerges from springs. Septic tanks should be inspected every two to three years and pumped out as needed.
Sinkholes — Debris found in sinkholes can have a significant effect on the quality of the water leaving the spring because sinkholes often are directly connected to the aquifer. Never discard trash or debris into a sinkhole. Dispose of hazardous household chemicals such as industrial cleaners, solvents, automotive fluids and paints at an approved landfill.
Stormwater — Properly maintained stormwater ponds help prevent flooding and filter out pollutants before they reach water bodies. Clean up litter, fertilizer, grass clippings, motor oil and pet waste before these materials enter storm drains and flow into water bodies.
Visit UnderFlorida.com to learn more about karst groundwater and WaterMatters.org/Springs for more information on springs and how to protect them. You can also take the Clean Springs Pledge and view a map of springsheds in the surrounding area.
---
TEAM ADDRESSES CONCERNS
In the continued effort to protect area springs and address concerns, the District has an ongoing Springs Protection Team.
The team, made up of staff from various bureaus, was created to identify concerns surrounding area springs and develop solutions. Some of those concerns include: increased nitrate levels, invasive plants, reduced flow, climate change and effects from recreation.
"The District recognizes that springs are one of our state's most precious natural systems and protecting and maintaining the quality of these resources is of great importance," said Veronica Craw, environmental manager.
A four-pronged approach using various resources was developed to tackle many of these concerns. The approach uses regulation, education, restoration and community coordination.
Regulation tools, such as minimum flows and levels and environmental resource permits, are key to helping preserve springs. But the team also identifies education efforts to create solutions. Those include campaigns, presentations and outreach at public events.
The District also develops and implements restoration projects to address impacts and uses data collection to monitor conditions.
Finally, the team coordinates with other organizations such as the Florida Department of Environmental Protection to address concerns and develop solutions for springs in our District.