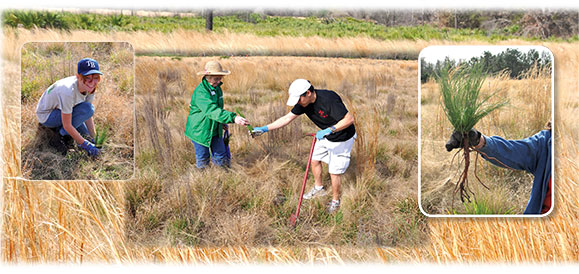 Left: Kaylee Meadows, a student from Wiregrass Ranch High, plants longleaf seedlings; center: Sheila Hollahan helps volunteer Felix Renta.
How long does it take to plant 1,000 trees? Only an hour if you are the 51 volunteers who recently came out to Conner Preserve to plant longleaf pine seedlings.
The District donated the thousand trees, which were planted on an 11-acre restoration site in the preserve to help restore the ecosystem. Volunteers were members of Land O' Lakes Boy Scout Troop 3, the Lutz/Land O' Lakes Woman's Club and the Lutz/Land O' Lakes Lions Club. Chris Reed, District senior land management specialist, provided planting guidelines to the volunteers.
The project is part of the Lions Club national initiative to plant a million trees worldwide.
"This is something that is going to help the environment," said Dave Skillin, president of the Lutz/Land O' Lakes Lions Club. "If not for the generosity of the Southwest Florida Water Management District, this day would not have been possible."