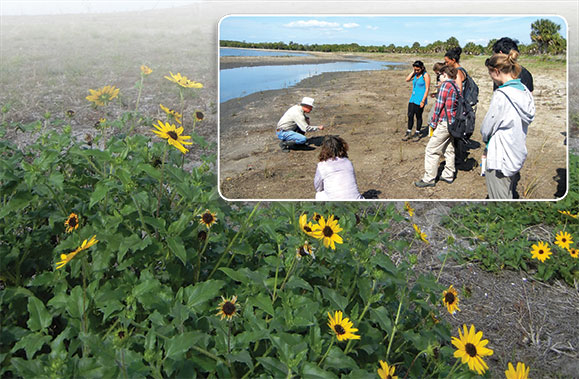 Brandt Henningsen, the District's chief environmental scientist, shows off a freshly planted baby marsh at Cockroach Bay to students from the University of London.
As student Bea Nagy inspected a freshly planted baby marsh or marveled at the water fowl dotting Cockroach Bay, she experienced a lesson not found in a textbook.
Nagy was one of 17 students from the University of London to recently tour the District's coastal ecosystem restoration projects such as Cockroach Bay. The trip is part of an undergraduate course called "Coastal and Aquatic Management," which examines environmental problems, management and restoration in a variety of aquatic environments.
As part of the course, the students spend a week in Florida examining various water projects to see how studied principles go into practice.
"It helps to see it in front of you," Nagy said. "It's one thing to read about it, but you get a better understanding when you can witness the process."
For seven years, professor Kate Spencer has brought her students to tour District properties.
"The students get a lot of inspiration from coming here," she said. "And it's so good for them to learn from people like Brandt [Henningsen] who are so enthusiastic about the work."
Henningsen is the District's chief environmental scientist with the Surface Water Improvement and Management (SWIM) Program. Among the stops for the day, he led the students on a tour of the Cockroach Bay Ecosystem Restoration Project where students got a step-by-step look at one of the most complex coastal ecosystem projects developed for the Tampa Bay estuary.
Students loaded in a flatbed trailer for the land portion of the Cockroach Bay tour and then took canoes for the water portion of the visit.
"It always is a pleasure and honor to showcase the restoration work being done for Tampa Bay with the students and faculty of the University of London," Henningsen said. "They always are an interested group with great questions and a youthful enthusiasm that is contagious."
Student Shirley Dowuonah-Hammond said the trip was an unforgettable experience.
"It's great to see ecosystems we can't see at home," she said. "Everything here is done on a much larger scale."
In addition to studying the Tampa Bay area, Spencer and her students also spend a week examining the Everglades watershed. They start at the Kissimmee River and work their way down to Lake Okeechobee, the Everglades, Florida Bay and the Keys.