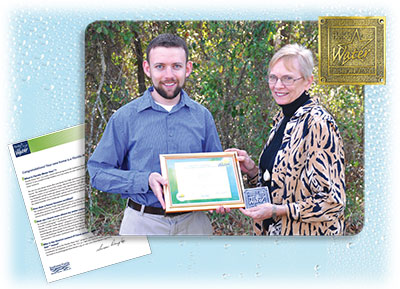 Susan Douglas, Florida Water StarSM program coordinator, presents employee Fred Hartless with his Florida Water StarSM certificate. Hartless is the first District employee to earn the certification.
For every drop of water conserved, Fred Hartless knows more money will stay in his wallet.
That's why Hartless made sure his new Wesley Chapel home was water efficient. He recently made it official by becoming the first District employee to get his home certified under the Florida Water StarSMprogram.
The geographic information system (GIS) analyst in the Data Collection Bureau decided to bring the District's mission of water conservation into his own home. Hartless, who has worked at the District nearly two years, is married with two children.
"I decided to walk the walk," Hartless said. "Water went up again and is really expensive in Pasco, so I thought this would be something good to do to save money for my family."
Florida Water StarSM is a voluntary certification program for builders, developers and homeowners. The program encourages water efficiency in appliances, plumbing fixtures, irrigation systems and landscapes.
Hartless said he found the process simple. A phone call to Susan Douglas, Florida Water StarSMprogram coordinator, got it started.
Douglas said the program is free for applicants.
"We ask them to sign a participation agreement that is no cost, no penalty," she said.
Hartless said he found the process easy to follow.
"I just downloaded the checklist from the website and started looking around my home," Hartless said.
Homeowners can get certified under two levels — silver and gold. Tiers are determined by the number of points accrued. Applicants earn points in three categories: landscape, irrigation and indoor.
Landscape criteria are based on the Florida-Friendly Landscaping™ "right plant, right place" principle. Irrigation criteria are designed to increase the overall efficiency of irrigation systems and promote correct scheduling. Indoor criteria help meet the needs of the occupants while reducing water use.
Since Hartless' home was new, he said he didn't have much work to do.
"The home already came with Florida-Friendly Landscaping™," Hartless said. "I just added some appliances and low-flow shower heads."
Installing items like an energy-efficient dishwasher and washer/dryer set helped boost Hartless' score to a gold level.
Once a homeowner meets the requirements of the checklist, an onsite inspection is scheduled. The inspector will check flow rates, landscaping and other program requirements.
Florida Water StarSM aligns with other green certification and recognition programs, such as ENERGY STAR®, the Florida Green Building Coalition's green standards and the U.S. Green Building Council's Leadership in Energy and Environmental Design (LEED®) program.
Douglas said the program offers many benefits. Certification may aid in the resale of a house and Florida Water StarSM structures typically show a 20 percent savings in water use. The program also creates opportunities for builders across Florida to standout in a competitive marketplace.
Plus, the program helps protect an important resource.
"If we conserve our resources now," Douglas said. "That's more water available for our future."
For more information on the Florida Water StarSM certification, visit the District's website at WaterMatters.org/FWS/.