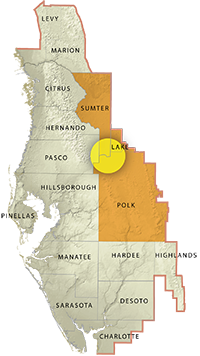 Description:
There is a place in the middle of the state, far from either coast, where people can go to experience the unaltered natural beauty of central Florida. The 51,000-acre East Tract of the Green Swamp Wilderness Preserve offers visitors the ability to hike, hunt, bike, camp or fish in a rare wilderness full of local flora and fauna.
The Green Swamp East Tract, which stretches across Sumter, Lake, and Polk counties, contains a variety of habitat types — flatwoods, oak hammocks, river swamp and cypress ponds — with a wide diversity of plant life. The tract is part of the larger Green Swamp region which ranks among the top in the state for hydrologic and environmental significance. Water trickles through the soil to replenish the Floridan aquifer system, the primary source of drinking water for most Floridians.
The preserve's East Tract provides year-round recreational opportunities for outdoor enthusiasts. Hikers will enjoy the 32 miles of Florida National Scenic Trail that runs through the Green Swamp. This trail continues up to the Richloam Tract of the Withlacoochee State Forest. It includes a 13.9-mile overnight loop and a 7.7-mile day loop. The trail is maintained by the Florida Trail Association and overnight hikes are welcome, but a free reservation is required. Backcountry campsites include Trial Ford, Tillman Lake and Mott Prairie.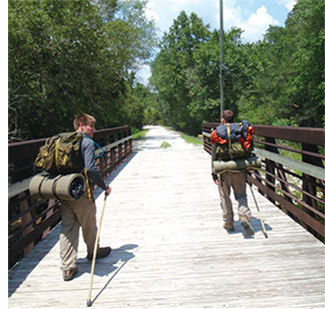 Fishing and frogging are allowed throughout the year. More than 50 miles of unpaved trails are also available for bicycling.
If You Go:
Be prepared for wilderness conditions, as no drinking water or restrooms are available.
Hikers should be prepared for wet hiking. Some trails are excessively wet during certain times of the year.
Parking is available at the preserve's main entrance on SR 471, about 6½ miles north of US 98. There is a small day-use parking area located on the south side of the East Tract on Rock Ridge Road, about 10 miles northeast of US 98 and 6 miles west of SR 33. Several additional walk-thru gates throughout the property can accommodate hikers.
To see a map of the trails on the property or for more information about other District lands, please visit WaterMatters.org/recreation/areas/greenswamp-east_tract.html.
Each issue of WaterMatters features a different District property ready for you to explore. These public lands are close to home and are free or very inexpensive to use.