Cole Kolasa stands with Craig McLean, assistant administrator of the National Oceanic and Atmospheric Administration (NOAA), at the annual Capitol Hill Ocean Week.
A District senior environmental scientist's son recently presented his award-winning science fair project to top leaders at a conference in Washington, D.C.
Cole Kolasa, the 13-year-old son of Keith Kolasa, was given the opportunity to present his research on robust ivory coral to the National Oceanic and Atmospheric Administration Administrator Dr. Jane Lubchenko and Assistant Administrator Craig McLean at this year's National Marine Sanctuary Foundation's Annual Capitol Hill Ocean Week.
According to Cole, there is little research available about robust ivory coral, which is primarily found along Florida's west coast. This type of coral is also one of few in the Gulf that attracts inhabitants.
"While diving, I started noticing that most of the coral colonies had fish and crabs living in them , and the fish would allow you to get real close to them," said Cole. "It's amazing what you see on the reefs when you look close."
Cole's project compared the volume of robust ivory coral colonies with the number of species of fish and crabs that inhabit each colony. The relationship helped observe the habitat value of this rarely researched coral and why the protection of it is important for maintaining productive fisheries and habitat for crustaceans.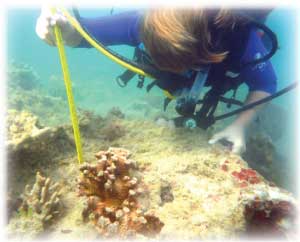 Robust ivory coral is primarily found along Florida's west coast.
The opportunity to attend the conference was made possible through Cole's membership in SCUBAnauts International, an organization founded in 2001 to introduce students to informal science education through underwater exploration.
In addition to being recognized at the conference, Cole received a second place award in the Junior Zoology category at the Hernando County Science and Engineering Fair and advanced to the Florida State Fair, placing third. Kolasa also received the statewide J.T. Malesky Award for medicine, health or zoology. This award is given to two students who have demonstrated outstanding enthusiasm for their research.