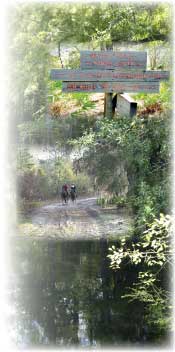 The Green Swamp Wilderness Preserve West Tract is an ideal place for visitors to explore some of central Florida's flora and fauna in their natural state.
Rainwater drains across the Green Swamp region's 560,000 acres of wetlands, flatlands and low ridges to form the headwaters of four major rivers: Withlacoochee, Ocklawaha, Hillsborough and Peace.
The West Tract's 37,350 acres of unspoiled habitat is transected by the Florida National Scenic Trail. More than 32 miles of the trail run through the West Tract and the Green Swamp East Tract. Along this area's trail and road system, hikers can enjoy a land that has been preserved to keep its natural beauty. The West Tract also is Site 64 on the western section of the Great Florida Birding Trail. Backcountry camping sites serve overnight hikers' needs. Equestrian, group and primitive camping sites are available, and they are accessible from the tract's access roads.
The West Tract offers more than just hiking, also featuring 46 miles of marked multiuse trails for bicycling and 60 miles of trails for exploring by horseback. Horse-drawn buggy riding is allowed as well on trails marked for that purpose. Amenities include a restroom at the Ashley campsite and portable toilets at the Cumpressco and McNeil campsites.
A small boat ramp on River Road allows access to the Withlacoochee River, which offers great fishing opportunities and a remote wilderness experience as it winds through the Green Swamp. Contact the Florida Fish and Wildlife Conservation Commission for license requirements.
Visitors can access the Green Swamp West Tract daily from sunrise to sunset for hiking, bicycling and horseback riding. Be prepared for wet hiking too. Some trails are excessively wet during certain times of the year. Bring your own drinking water because there is no water available at the property.
The main entrance to the Green Swamp West Tract is west of Dade City on River Road near the intersection of Auton and Ranch roads.
Each issue of WaterMatters features a different District property ready for you to explore. These public lands are close to home and are free or very inexpensive to use.