Brian Townsend, District senior heavy equipment operator (left), and Stephanie Green, senior land management specialist, supported the Florida Division of Forestry at the Santa Fe fire.
With less than 24 hours notice, the District was called upon by the Florida Division of Forestry (FDOF) to send staff and equipment to help fight two wildfires outside the District's 16-county region.
District Land Manager Kevin Love received the call from the FDOF on the afternoon of Thursday, June 16, requesting staff and equipment to help fight a wildfire in the 6,500-acre Santa Fe Swamp Conservation Area northeast of Gainesville as well as a series of wildfires in Flagler County. The staff and equipment were needed by noon the following day.
According to Love, the request for assistance was a little unusual.
"Conditions were continuing to deteriorate so we had a feeling we were going to be called to help with fires," said Love. "But we didn't expect to get the call so quickly or that we would be dispatched outside the District to help fight two different fires. The District has been assisting the FDOF with wildfires for 30 years, but never outside the District. This was a first for us."
Land Resources and Operations supervisors immediately began assigning fire management staff members to one-week shifts and gathering supplies and equipment. Land Resources staff and Operations staff from the Tampa and Bartow service offices, were assigned to the Santa Fe fire to operate three Type VI engines, which are equipped with 150- to 250-gallon water tanks. The District was also asked to bring a truck with a strike team leader. Meanwhile, Brooksville Operations staff were assigned to the Flagler fires and would be responsible for cutting firebreaks using two tractor plows.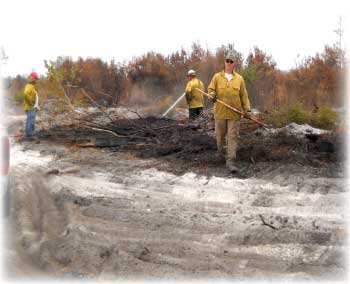 Left to right, Paul Hites, senior heavy equipment operator; Paul Elliott, senior land management specialist; and Chris Reed, senior land management specialist, put out a hot spot at the Santa Fe fire.
"What was so cool about the process was how organized and 'business as usual' it was," recalls Love. "Crew rosters were filled, assignments were made and crews mustered and started preparing vehicles, equipment and supplies. Staff was able to deploy by 8:30 a.m. the next morning."
Eleven staff members were assigned to work the first week, working 12-hour shifts alongside staff from FDOF, the St. Johns River and Northwest Florida water management districts and local volunteer firefighters. Staff helped spray out hot spots, patrol to ensure fires were staying within containment lines, and cut fire lines.
However, just three days into their assignment, the crews received some somber news. Two FDOF forest rangers were killed while battling a wildfire in Hamilton County.
"There's always a risk when you're working around fire — you just never know," said Stephanie Green, District senior land management specialist who was assigned to the Santa Fe fire. "You have to always be prepared, use good communication and be aware of your situation."
According to Green, District staff was able to further support FDOF during what became a very difficult time.
"It felt really good to work together to meet a common goal and to support another agency," said Green. "During the second week, District crews held a fire line almost entirely by themselves so that the FDOF staff could attend the funerals of their fallen comrades."
Brian Townsend, District senior heavy equipment operator from the Tampa Service Office, echoed Green's comments.
"It felt good to go and lend assistance to FDOF and help the surrounding community," said Townsend. "They were very thankful that we were there."
Several volunteer fire departments worked with local restaurants to show their appreciation to District staff and other out-of-town crews by providing meals.
"One thing we all agree on is that the local community really took care of us," recalls Green. "They went out of their way to show us how much they appreciated our help."
As the summer rains began to blanket the state, the last District crews were released from their wildfire duties by the end of June.
According to Love, staff's extensive experience with prescribed burning set the District crews apart during the two-week assignment.
"Our fire management staff are highly trained and have excellent equipment," said Love. "They perform prescribed burns on our properties throughout the year, which gives them great experience. From the reports I received from FDOF in Tallahassee, our folks really distinguished themselves and the District with their performance over those two weeks."