Rutter Earns Professional Certification
Roger Rutter, a tradesworker at the District Headquarters in Brooksville, was recently certified by the Florida Nursery, Growers and Landscape Association as an FNGLA Florida Certified Horticulture Professional.
The certification measures horticulture knowledge on everything from plant and pest identification to landscape management, and it promotes professionalism among horticulture professionals, including nursery, greenhouse, landscape and retail garden center employees. The program has been in existence since 1984. Rutter attended nine weeks of classes and passed a four-part written exam to achieve the certification.
The Florida Nursery, Growers and Landscape Association is a professional association that works to shape the future of Florida's nursery and landscape industry.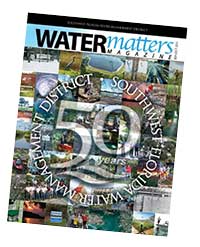 50th Anniversary Special Issue
An upcoming issue of WaterMatters Magazine will celebrate the District's 50-year history.
The 20-page special issue will include a decade-by-decade look at the District's growth, beginning with the events that contributed to the establishment of the agency. Articles on weather and technology will shed light on the effect they have had on the District's development. Interviews with past executive directors and some of the District's longest-serving employees will provide insight on life during the District's early years.
Sarasota Builder Earns Florida Water StarSMCertification
Josh Wynne, a Sarasota builder, has built the first home in Lakewood Ranch to earn Florida Water StarSM Gold certification. The 2,520-square-foot house built in the Polo Club features indoor water-saving fixtures and appliances. Outdoors the builder preserved 20 percent of the property in its natural state and installed an irrigation system for only a small portion of the landscape.
Florida Water StarSM is a voluntary certification program for builders, developers and homeowners. It encourages water efficiency in appliances, plumbing fixtures, irrigation systems and landscapes. Builders can meet the Florida Water StarSM Silver or higher Gold standard, depending upon the level of water savings the house achieves.
For more information, contact Susan Douglas, Florida Water StarSM program coordinator, (352) 796-7211, ext. 4752, or visit the District's website at WaterMatters.org/fwsg/.