A monthly graph of rainfall as a 12-month departure from mean shows deficits lasting longer than surpluses in recent history.
As the annual observance of April as Water Conservation Month approaches, water resources in west-central Florida are still feeling the effects of the extended drought. The District's entire 16-county area has been under a Phase I water shortage alert since last fall. A Phase I alert is intended to raise the public's awareness of dry conditions and to direct water utilities and their local governments to prepare for worsening conditions.
"There has been a steady increase in the rain deficit since the start of the drought in 2005," said Granville Kinsman, District hydrologic data manager. "The drought has since ended, and we have seen a couple of periods of increased rainfall during that time. But we've still built up a deficit of 34 inches over the last five or six years."
A "rain deficit" builds when an area receives below-normal rainfall over a long period of time. Over the past 12 months, west-central Florida has received 4 inches less rain than normal. Over the past 24 months, the rain deficit is 6.5 inches. The number increases to nearly a foot when viewed over the past 36 months. According to Kinsman, the most visible sign of the rain deficit is low lake levels.
"Lakes are our last lagging indicator of low rainfall," said Kinsman. "People throughout the District see low lake levels, and this is the reason why. It's all about the rain."
Getting the Word Out
Each year the District joins with the state Legislature, Tampa Bay Water and dozens of local governments in declaring April as Water Conservation Month. The District hopes to raise awareness about water conservation this spring by having its water conservation restroom trailer at a variety of outdoor events. The trailer and staff will be in St. Petersburg in April at the Living Green Expo, Mainsail Arts Festival and Green Thumb Festival. District staff will also help educate residents at several Earth Day celebrations across the region.
Online Pledges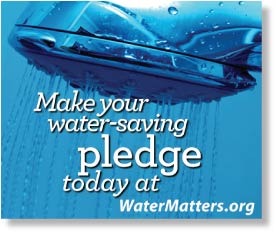 The District is unveiling a new water conservation pledge for Water Conservation Month. The online pledge gives residents eight water-saving steps they can take to reduce their use, from turning off the tap to fixing drips and leaks, to replacing fixtures with low-flow models. Residents who take the pledge will be entered to win a free water conservation kit. You can find the pledge on the District's website at WaterMatters.org/waterpledge/.
The Youth Education Section of the District's Communications Department has a web-based water conservation challenge for schools. Teachers and students can pledge to conserve water and develop a plan for a conservation activity. Classes that pledge to commit to save at least 10 gallons of water per day are eligible to receive a free conservation challenge kit. More information can be found at WaterMatters.org/classchallenge/.
For more information on how to conserve water, visit the District's website at WaterMatters.org/conservation/.