Will VanGelder, District senior land management specialist, top, leads a group through the Oak Ridge Equestrian Area.
More than 50 residents turned out for a series of guided hikes on District properties during Florida Hiking Trails Month in February.
Part of the District's ongoing "Get Outside!" campaign, the one-mile hikes took place at the District's Green Swamp West Tract in Dade City and the Oak Ridge Equestrian Area in Thonotosassa during two weekends in February. The hikes were led by District Land Resources staff members who discussed the variety of habitats, native animals and land management activities, such as prescribed burns. For the majority of the hikers, it was their first time visiting the two properties.
"The 'Get Outside!' campaign is all about getting new users on our properties," said Eric Sutton, District Land Resources director, who led one of the Green Swamp hikes. "The hikes were a great opportunity to familiarize people with the properties so they are comfortable coming back on their own."
Retirees Lenny and Helen Littlefield, who moved to Florida about a year ago, drove from their home in Weeki Wachee to the Green Swamp to find out about nearby recreational opportunities. Once staff learned that the couple lived near the District's Weekiwachee Preserve, they provided them with directions and tips for getting the most out of the property.
"We want to get out and get exercise so we signed up for the hike to find out what's around here," said Helen Littlefield. "This was very informative and we will definitely check out some of the other properties."
Several homeschool groups signed up for the guided hikes as an educational family outing. For the Jansen family of the Grace Family Homeschool Group, it was also their first time visiting the Green Swamp and hiking on the Florida National Scenic Trail.
"This is what Florida is supposed to look like," observed Kim Jansen. "This is what it's supposed to be."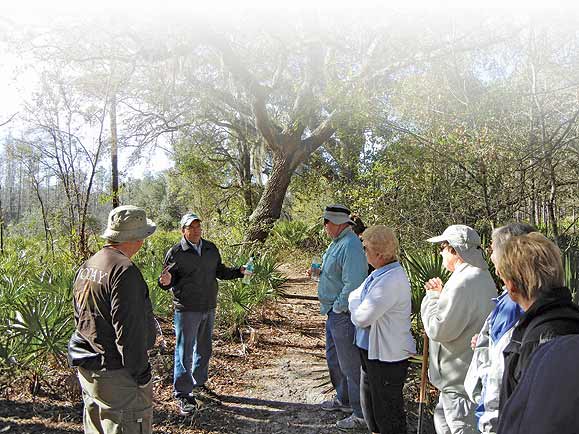 Eric Sutton, District Land Resources director, points out the features of the Green Swamp West Tract to visitors.