Clay Black, District senior professional engineer, prepares students for the estuary test.
For this high school field trip, students were asked to define anoxic, cite the life cycle of an oyster and know the salinity of brackish water. And that was just for starters.
Those were a few of the topics covered when more than 270 high school students and teachers from Citrus, Hernando, Pasco and Sumter counties swarmed the Anclote River Park in February to compete in the 2011 Nature Coast Regional Envirothon.
The competition is a problem-solving, natural resources education program for high school students that allows them to use critical-thinking skills to solve problems or conduct hands-on investigations about current environmental issues. This is the 14th year the District's Brooksville Regulation Department has provided support for the competition.
"It's a great outreach tool to the schools," said Clay Black, a District senior professional engineer. "We can help educate young people about issues that affect our water supply in a fun, competitive setting."
This year the District developed a test on estuaries. The Brooksville Regulation staff covers a different subject each year. Past subjects include groundwater and springs as well as exotic and invasive species.
The Nature Coast Envirothon is organized by volunteers from local government agencies, school districts and the private sector. The annual event tests students' environmental knowledge. Each five-member team worked together to answer questions in five categories: soils, forestry, aquatics, estuaries and wildlife.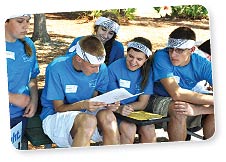 The River Ridge High School team works on the exam.
The River Ridge High School Advanced Placement Environmental Science (APES) team scored the highest on the District's estuary test. APES team members Tyler Lovelle, Andrea Culp, Kelley Devinney, Melissa Dollard and Bryan Fischer benefitted from District help in the classroom. Their school advisor, Josh McCart, is active in the District's Splash! school grant program. His APES students are using a 2010 Splash! grant to create a living machine with a series of tanks to clean effluent water, mimicking wetland processes. By using this working model, students will see first-hand how wetlands function and the services they provide in our communities.
"The kids really seem to enjoy the challenge," said Carolyn J. Pina, a District staff engineer. "And holding the competition at the park gives them a chance to get out of the classroom and do some hands-on learning."
The overall winner of the 2011 Nature Coast Envirothon was Pasco High School's "What Would Don Do" team. Each team member earned $500 in college scholarship money and can advance to the state competition.