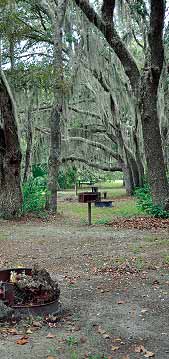 Northeast of the recently-restored Lake Panasoffkee, a wetland forest of freshwater marshes rises to the pine flatwoods and scrub oaks of upland sandhills to form the vast floodplain forest of the District's Lake Panasoffkee property.
The 9,911-acre property was acquired by the District to preserve the floodplain forest. Thick marsh vegetation prevents access to the lake from the property, but the property has a lot to offer.
Visitors will find a large pavilion, complete with grills and about a dozen picnic tables. Restrooms are available near the pavilion, and they are handicap accessible. There is no drinking water supply on the property, but nonpotable water is available. The property is open daily from sunrise to sunset, except during some hunting seasons.
Horse enthusiasts will find eight horse stalls with water, available free to campers on a first-come, first-served basis. Horse-drawn buggy riding is allowed on marked trails but requires a free reservation. There are 18 miles of multiuse trails marked for horseback riding.
Hikers will enjoy the multiuse trails as well. Some trails can get excessively wet during certain times of the year, so hikers should be prepared for wet hiking. The property is Site 54 on the western section of the Great Florida Birding Trail. Separate sites are available for equestrian or group and primitive camping, with picnic tables and fire rings or grills.
During the 2010–2011 hunting season, the FWC managed hunting seasons for deer, hogs, turkey, waterfowl, migratory birds and small game. Hunters can check with the Florida Fish and Wildlife Conservation Commission (FWC) to find out more about hunting opportunities. Fishing and frogging are allowed year-round. FWC brochures containing information on hunting seasons and regulations can be found on the District's website at WaterMatters.org/hunting/.
The Lake Panasoffkee property is located south of SR 44, west of Wildwood. The entrance to the property is on the south side of SR 44, about 2.5 miles east of CR 470 and west of I-75. You can access the lake from the Coleman Landing public boat ramp at 61 CR 514, Wildwood.
The property is easily accessible for day use as well as overnight camping. Admission, parking and camping are free, but reservations are required and are available online at WaterMatters.org/reservation or by fax or mail.
Each issue of WaterMatters features a different District property ready for you to explore. These public lands are close to home and are free or very inexpensive to use.