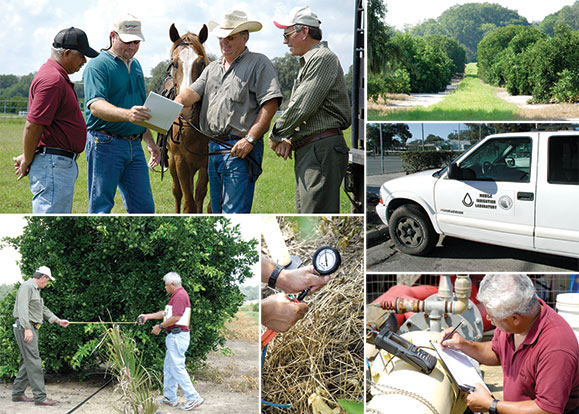 Clockwise from top left: (1) From left, Guillermo Alverio, irrigation management specialist with the U.S. Department of Agriculture–Natural Resources Conservation Service; Jeff Whealton, District agricultural program coordinator; Dennis Carlton, landowner; and John Allen, Carlton Ranch grove manager, discuss the grove layout and the operation of the irrigation system. (2) Citrus grove at Carlton Ranch in Hillsborough County. (3) Mobile Irrigation Laboratory. (4) Guillermo Alverio uses a flow meter to measure how much water is moving through the main line. (5) Measuring the pressure at different emitters can identify uneven distribution and inefficient use of water. (6) John Allen and Guillermo Alverio measure the diameter of the tree canopy. This enables the irrigation specialist to match the average tree size to the irrigated area covered by the emitter.
For growers who are interested in saving time, money and water, the District offers a Mobile Irrigation Lab (MIL) program that gauges water use and helps improve irrigation efficiency within the agricultural community.
The MIL program, which began in 1987, is a cooperative effort between the District and the U.S. Department of Agriculture– Natural Resources Conservation Service (USDA–NRCS.)
"The MIL program is essentially a water efficiency program," said Jeff Whealton, District agricultural program coordinator. "The growers see an immediate benefit in a reduction in costs to run their irrigation systems, and the District realizes a water savings across the region as well as an improvement in water quality."
This free service is provided to all types of growers. It starts when a grower makes a call to set up an evaluation. The NRCS conducts the evaluation, which is paid for through District funding. Guillermo Alverio, an irrigation management specialist with NRCS, begins his evaluation with a visit to a farm, nursery or grove.
"I usually try to time my first visit with when the grower plans to irrigate," said Alverio.
Alverio evaluates the irrigation system, including system pressure and irrigation uniformity. He also collects specific data about the irrigated area, including site layout and soil samples.
Once the information has been reviewed and analyzed, Alverio goes over his report and any recommended improvements and irrigation schedules with the grower or grove manager. An irrigation schedule offers a general guide to determine when and how much to irrigate based on system efficiency, crop requirements and soil characteristics.
Alverio recently met with John Allen from the Carlton Ranch's Citrus Division. The ranch has close to 1,000 acres of citrus in Hardee, Hillsborough and Manatee counties.
The report, which Allen says is comprehensive but easy to understand, is kept confidential. That means that while the District knows an evaluation was conducted, the specific results of the report are not shared with the District.
"We've had some really good results with fuel and water savings," said Allen.
Allen says they've seen a water savings of about 30 to 35 percent and that really makes a difference during times of drought. Most growers see an even greater savings.
Allen first learned about the MIL program several years ago on a visit to the NRCS office in Palmetto. Since then, he has used the program to evaluate several groves.
"They are really 'Johnny-on-the-spot.' You make a call and they are out within a week or two," said Allen. "The best part is it doesn't cost us anything — they even bring their own coffee."
To learn more about the MIL program, please contact the District at 1-800-423-1476.