Left: Green Swamp Wilderness Preserve — Hampton Tract entrance. Right: Hampton Tract is most popular for equestrian activities.
Each issue of WaterMatters features a different District property ready for you to explore. These public lands are close to home and are free or very inexpensive to use.
This issue features the Green Swamp Wilderness Preserve's Hampton Tract in northwestern Polk County.
The 11,052-acre Hampton Tract is ideal for visitors to explore some of central Florida's most diverse and undisturbed plant and animal habitats. This tract is an excellent place for bird watching and observing other wildlife such as mammals, amphibians, reptiles and butterfly species.
Aside from nature study, the Hampton Tract provides a variety of recreational opportunities. With approximately 28 miles of multiuse trails, the tract offers bicycling, horseback riding and hiking.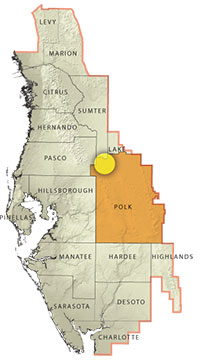 According to Margaret Blommel, District land use specialist, the Hampton Tract is most popular for equestrian activities.
In addition, the property features equestrian, group and primitive camping sites. Just about three miles northwest of the camping sites is a 20-acre secluded fishing area where bass and bream are the most common catches.
The Hampton Tract is part of the Green Swamp Wilderness Preserve, which is a 110,000-acre property divided into five management units including Colt Creek State Park and the East, Hampton, Little Withlacoochee and West tracts.
The Hampton Tract is open daily from sunrise to sunset and does not require an admission fee. The main entrance to the tract is about seven miles northeast of US 98 on Rock Ridge Road.
The District will host its second "Get Outside!" Day community event at the Hampton Tract on Feb. 27 from 10 a.m. to 2 p.m. The event will offer nature hikes, scavenger hunts and much more. Visit WaterMatters.org/recreation for more information.