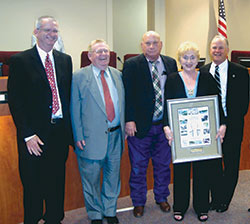 Pat Glass displays a plaque she received in recognition of her public service. With Glass are District Executive Director Dave Moore (right) and representatives from the Peace River Manasota Regional Water Supply Authority and Charlotte and DeSoto counties.
The District's Governing Board and the Peace River Manasota Regional Water Supply Authority (Authority) joined together in December to recognize Patricia "Pat" Glass for her dedication to public service as a member of the Governing Board and the Manasota Basin Board.
Glass was appointed by Governor Jeb Bush in April 2007 and served until July 2009. As a Governing Board member, she also served as co-chair of the Manasota Basin Board.
The Board resolution recognized Glass for her environmental leadership and support of regional water supply projects, including the Authority's Facility, Reservoir and Regional Loop System Expansion Projects and the Lake Hancock Lake Level Modification Project, as well as the Facilitating Agricultural Resource Management Systems (FARMS) and Surface Water Improvement and Management (SWIM) programs.
The resolution also recognized Glass for her support and involvement in the Edward W. Chance Reserve projects and education initiatives, including Florida-Friendly Landscaping™.
"Thank you, but the credit goes to everyone in the room," said Glass. "Water does not know any geographical boundaries or political boundaries and we all need to continue working together."
Glass also served as the Governing Board liaison to the Sarasota Bay Estuary Program Policy Board and vice chair of the Governing Board's Outreach & Planning and Resource Management committees.
Before joining the Governing Board, Glass served for nearly three decades on the Manatee County Commission. During her tenure on the commission, she served as chair and second vice chair and ultimately became the commission's representative on all water issues.
She has also chaired the Authority's board and was a founding member of the Sarasota Bay, Tampa Bay and Charlotte Harbor national estuary programs.