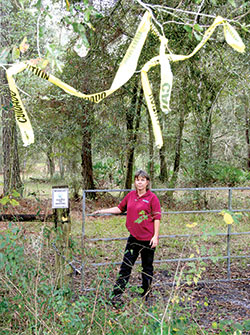 Margaret Blommel, District land use specialist, stands where she assisted authorities in entering the Upper Hillsborough Tract after the plane crash.

Margaret Blommel, District land use specialist, was instrumental in assisting authorities with a recent plane crash investigation at the Upper Hillsborough Tract.
Blommel heard on the television news of a plane crash that occurred about 15 miles from her home on Friday, Oct. 23.
"They described the area as nearby remote woods," said Blommel. "The only remote woods in the area are within the District's Upper Hillsborough Tract."
Since Blommel was familiar with the area, she drove out to the property to see if she could be of assistance. When Blommel arrived, she met a deputy from the Pasco County Sheriff's Office. In addition to opening the gate, Blommel was able to use District technology to create a map of the property to assist the sheriff's office representatives in finding the crash scene.
According to authorities, the pilot and two passengers traveling from Gainesville to Lakeland were killed in the fiery plane crash in eastern Pasco County that night.
"Had Margaret not shown up and given me the map and key, we would certainly have had a more difficult job," said Pasco County Deputy Steven Napoleon.