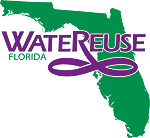 More than 700 of the best and brightest minds in water reuse met in Tampa this September to take part in the 22nd Annual WateReuse Symposium, which focused on water reuse and desalination.
This is the first time the WateReuse Association has held its annual event in the Tampa Bay area. The association is a nonprofit organization whose mission is to advance the beneficial and efficient use of water resources through education, sound science and technology using reclamation, recycling, reuse and desalination.
"The symposium featured more than 120 technical presentations, tours and regulatory and legislative forums," said Anthony Andrade, a District senior water conservation analyst who served as a moderator during a technical session on planning for water reuse. "It served as a valuable tool for attendees to share technical and institutional knowledge on water reuse and desalination."
Water reuse is the use of reclaimed water, which is wastewater that has received a high level of treatment. Reclaimed water is primarily used for irrigation, but it can also be used for other purposes such as industrial cooling and natural systems restoration. Using reclaimed water helps offset the demand for ground water and surface water. This alternative, nontraditional water source reduces stress on environmental systems, provides economic benefits by delaying costly water system expansions, and reduces the need to discharge wastewater effluent to surface waters.
The symposium coincided with "Water Reuse Week." The state's water management districts, the Governor's Office and the Florida Department of Environmental Protection declared "Water Reuse Week" in an effort to promote water reuse and the need for water conservation. Water reuse is a key component in meeting the current and future water needs of the region and the state.
The District has an ongoing commitment to promote and encourage water reuse. This commitment will result in the development of projects that utilize more than 225 million gallons per day of reclaimed water within the District by 2010.
For more information about water reuse or reclaimed water, please visit the District's web site at WaterMatters.org/projects/reclaimed-water/.