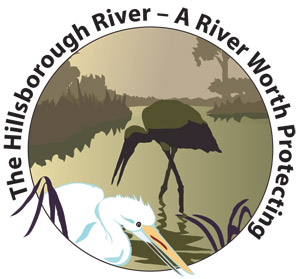 This October the District is collaborating with the Hillsborough River Watershed Alliance to raise watershed awareness by declaring Oct. 20–27 as Hillsborough River Watershed Awareness Week.
The Hillsborough River originates in the Green Swamp and is approximately 54 miles long. Part of the river is designated as an Outstanding Florida Water.
The Hillsborough River watershed encompasses approximately 950 square miles. The watershed is located within portions of Hillsborough, Pasco and Polk counties, and includes Tampa, Plant City, Temple Terrace, Lakeland and Zephyrhills.
Events during the week will be designed to increase watershed awareness, showcase the commitment to protecting the watershed and foster proper stewardship of the watershed. During these events, a canoe paddle will be passed to local county commissioners and city council members to symbolize how each area is interconnected as part of the watershed. Event participants at each location will also have the opportunity to view an interactive watershed map and sign a pledge as a commitment to protecting the Hillsborough River watershed.
The week will wrap up at Hillsborough River State Park with the annual "A River Runs Through It" event — a community fair that features watershed education workshops, children's activities and educational displays, as well as canoeing, fishing and hiking.
This watershed awareness campaign is modeled after this past spring's highly successful "Spanning the Watershed" events in the Peace River watershed.
To learn more about these upcoming events, please call Kendra Antoine, District senior communications coordinator, at 1-800-423-1476, ext. 4753.