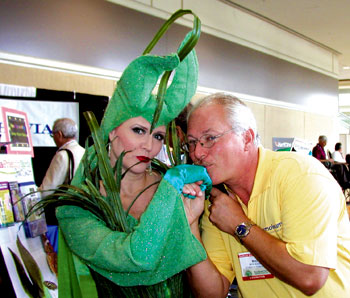 "Betty Blade," portrayed by Roberta Koutney, is featured in the District's Florida-friendly landscaping campaign. An "adoring fan" gives her a kiss at the Green Trends show at the Southeast Building Conference.
The beautiful blade of green grass that "starred" in the District's "Florida-Friendly Landscaping — Grow Smart" campaign was a hit at a recent builders conference in Orlando.
"Betty Blade," portrayed by Roberta Koutney, attracted attendees to the Florida Green Building Coalition booth, which was shared by the District and the University of Florida/Institute of Food and Agricultural Sciences' statewide builder and developer program. The booth was part of the joint Green Trends show and Southeast Building Conference held in July.
"The focal point of the District's display was the FloridaYards.org web site, which was displayed at the booth throughout the show. This valuable resource was promoted to builders and landscape professionals as a tool to make the number one Florida-friendly landscaping principle, 'Right Plant, Right Place,' easier for them to accomplish," said Sylvia Durell, District senior communications coordinator.