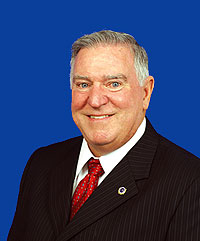 Florida native and citrus grower Ronald E. Oakley took his oath of office during the July Board meeting to serve on the Governing Board.
Gov. Charlie Crist appointed the Zephyrhills resident to succeed Talmadge G. "Jerry" Rice. Oakley's term ends March 1, 2011.
Oakley is the executive vice president of Oakley Groves, Inc. in Lake Wales. He believes his experience as a citrus grower and rancher will give him insight into managing the District's water resources, despite the area's growing population. His experience as a cattle rancher also gives him a unique perspective and interest in protecting the area's land resources.
"I'm honored to have been appointed by the Governor to serve on the District's Governing Board," said Oakley. "As a native Florida citrus grower, I believe it is the responsibility of all water users to work together to conserve our area's natural resources."
Oakley will also assume responsibility as chair ex officio of the District's Withlacoochee River Basin Board.