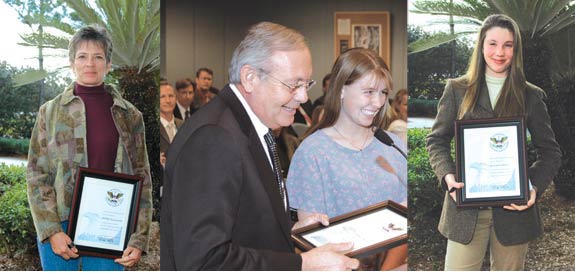 From left: Sammy Malone, WYME Trailblazers; Fritz Musselmann. land resources director; Merrill Firmani and Elizabeth Shupe, South Creek Equestrian Riders.
Two young adults, two campground hosts and an equestrian group who participate in the District's Land Resources Volunteer Program have been recognized by the President of the United States.
These volunteers received the President's Volunteer Service Award at the January Governing Board meeting. The award, which falls under the "Take Pride in Florida/Take Pride in America" program, is a national honor that recognizes volunteer dedication and signifies that each volunteer has served the community and country with distinction.
"Volunteers are a vital part of the District's effort to maintain our public lands," said Jerry Rice, District Governing Board chair. "The hours they spend helping develop, construct and maintain District trails, picnic areas and campgrounds make the land more accessible and enjoyable for all."
Elizabeth Shupe, 12, and Merrill Firmani, 13, are young adults who are members of the South Creek Equestrian Riders, an equestrian club based out of Dade City. The club helps maintain trails, campgrounds, picnic sites and public entrances in the District's Upper and Lower Hillsborough Tracts. Last year Shupe contributed 68 volunteer hours and Firmani contributed 65 volunteer hours.
Shupe told the District's Governing Board she is "proud to be a part of Florida's conservation efforts."
Firmani enjoys participating in the club's work days. She says the hardest thing about it is getting up at 6:30 a.m. on a Saturday, but it is always enjoyable to be out there.
"It is encouraging to see young people gaining an appreciation of public lands through volunteering," said Fritz Musselmann, land resources director.
Sonny and Carol Mattice are a married couple who serve as Lake Panasoffkee campground hosts. The Mattices assist with cutting, trimming and mowing on the grounds. They also greet visitors and provide them with information about the recreational opportunities available. Last year Sonny and Carol Mattice each contributed 194 volunteer hours.
The WYME Trailblazers is a Tampa-area equestrian club. The club helps maintain horseback riding trails at the Jefferson Equestrian Area, which is part of the District's Lower Hillsborough Flood Detention Area and Wilderness Park. Last year the group accumulated 208 volunteer hours.
Sammy Malone accepted the WYME Trailblazers' award at the Board meeting.
"Clearing brush is a small price to pay to use these public lands," said Malone. "We appreciate the opportunity to give back."
Malone said the club was dedicating the award to Benny Bridges, a member who passed away this year.
"He really knew all the trails and was always out there," said Malone.
There are approximately 300 volunteers involved with the District's Land Resources Volunteer Program. These volunteers play an important role in maintaining the District's many recreational trails and campgrounds.
Each spring the District holds a picnic to honor its volunteers. This year the picnic is being held in April on the District's Lake Panasoffkee property.