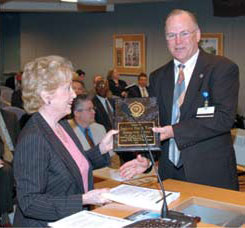 Pat Glass, a former Manatee County commissioner, presents David Moore, District executive director, with a plaque recognizing the District's role in the Manatee Agricultural Reuse System project.
A recently completed project is providing reclaimed water to the Manatee County agricultural community, as well as residential and recreational customers.
The concept for the Manatee Agricultural Reuse System (MARS) project, which was dedicated in February, began in 1994 with the idea to interconnect three Manatee County wastewater treatment facilities to provide 12 million gallons per day (mgd) of reclaimed water to agricultural users.
In 1996, that concept was revised to include upsizing some of the transmission lines, a two-million-gallon storage tank and a reclaimed water aquifer storage and recovery (ASR) well. This change increased the reuse flow from the project to 20 mgd of reclaimed water, which is expected to offset the need for 12 mgd of ground water and surface water.
"This project was one of the original New Water Sources Initiative (NWSI) projects. It becomes the backbone of Manatee County's reuse system and will increase reuse quantities and efficiency," said Scott McGookey, District project manager.
The major agricultural customers receiving reclaimed water from the project include Schroeder-Manatee Ranch, Rutland Ranch, Four Star Tomato, Pursley Turf and Pacific Tomato.
There are many smaller agricultural customers along the transmission route that will also be given the opportunity to come on board. Several new residential developments, some of which include golf courses, are planned or are under construction along the transmission route and may also be potential MARS participants.
Manasota Basin Board members Betsy Benac and Mac Carraway attended a dedication where Terri Behling, District community affairs coordinator, accepted a plaque on the District's behalf.
"It was great to see individuals from local, state and federal governmental agencies come together on the MARS project, which will help offset groundwater use in the Southern Water Use Caution Area," said Behling.
The $31.5 million project was a cooperatively funded effort between the District and Manatee County. The District's Manasota Basin Board contributed $5.9 million, the District's Governing Board contributed $6 million and Manatee County contributed $11.9 million. The project also received a $7.7 million federal grant.
The project, which began construction in 1999, was completed in February.
Reclaimed water is wastewater that has received at least secondary treatment and is used for a beneficial purpose, such as irrigation. By offsetting demand for ground water and surface water, this alternative, nontraditional water source reduces stress on environmental systems, provides economic benefits by delaying costly water system expansions and eliminates the need to discharge wastewater effluent to surface waters.