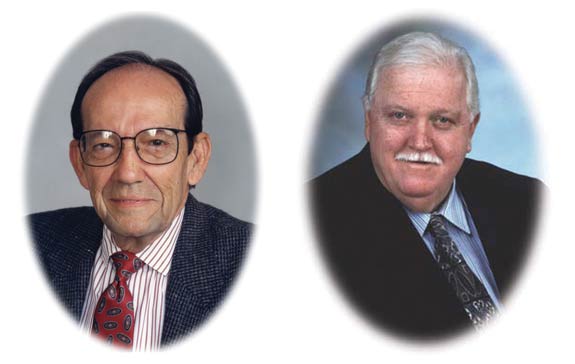 Ramon F. Campo, left, and Edward W. Chance, right.
Two former Governing Board members who recently passed away will be remembered for their dedication to the District.
Ramon F. Campo
An oak tree was planted at the Tampa Service Office this February in memory of Ramon "Ray" F. Campo, who served on the Governing Board from 1991 to 1999.
"Many of the philosophies and programs the District employs today sprang from the efforts and vision and humanity of Ray Campo," said Heidi McCree, Governing Board member. "Ray may no longer be with us, but his legacy is woven into the fabric of this District and we are all the better for it."
Campo was involved in improving how the District deals with regulatory issues and data collection. Some of the other issues he is best remembered for include metering water use permits and the resolution of seasonal high groundwater levels that were so critical in stormwater management.
Edward W. Chance
The District renamed the Gilley Creek and Coker Prairie tracts of the Lake Manatee Reserve this March in honor of Edward W. Chance, who served on the Governing Board from 2000 to 2006. Mr. Chance was an advocate of the District's land acquisition program. Chance was also one of the founding members of the Peace River/Manasota Regional Water Supply Authority and served on the Authority Board for ten years, including five years as its chair.
The District purchased the tracts, which are located in eastern Manatee County, for the primary purpose of protecting the watershed surrounding the Lake Manatee Reservoir.
"It is fitting that our tribute to Ed is the renaming of these properties," said Governing Board member Tom Dabney, who served as co-chair with Chance on the Manasota Basin Board. "Ed was always keenly aware of the need to protect watersheds, especially in areas so vital to the water supply."
The Gilley Creek tract is 5,973 acres of wetlands and hardwood hammocks along Gilley Creek. Much of the site, which was formerly used for cattle ranching, was converted to pastures. Efforts are under way to restore the natural habitat and the historical hydrology.
The Coker Prairie tract is 2,135 acres of relatively unaltered pine flatwoods, freshwater marsh and hardwood hammocks.
In addition to renaming the property after Chance, the District also dedicated a trail in honor of his wife and a glade in honor of his granddaughter.