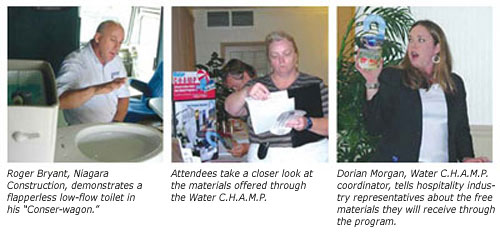 The District's Water Conservation Hotel and Motel Program (Water C.H.A.M.P.) is being noticed throughout the southeast for its success.
Governing Board member Watson Haynes II and Melissa Roe, a District senior communications coordinator, will represent the District when they accept a Gulf Guardian Award in Corpus Christi, Texas. Water C.H.A.M.P. received second place among government programs that help protect the Gulf of Mexico.
The Gulf Guardian Awards are presented by the Gulf of Mexico Program to recognize the businesses, community groups, individuals and agencies that are taking positive steps to keep the Gulf healthy, beautiful and productive. Underwritten by the U.S. Environmental Protection Agency, the non-regulatory Gulf program is a consortium of government agencies and industry representatives. Award entries were received from Alabama, Florida, Louisiana, Mississippi and Texas.
"I am very pleased to see a program that started as a pilot project in the Pinellas-Anclote River Basin has grown into a successful water conservation program throughout the District," said Watson Haynes II, Governing Board member and co-chair of the Pinellas-Anclote River Basin Board.
In addition to gaining regional recognition, the Water C.H.A.M.P. program has also expanded. The program is now funded by all basins, which means hotels and motels throughout the District can be a part of this effective conservation program.
In the last six months, the total number of Water C.H.A.M.P. properties has risen almost 23 percent. Participation grew from 158 to 194.
Dorian Morgan, Water C.H.A.M.P. coordinator, says water conservation is not always on the mind of many hoteliers until they realize the potential savings.
"They are surprised to hear that the hotel industry uses 180 billion gallons of water per year," said Morgan. "It is so rewarding to be there when they have the "ah-ha" moment and realize they could save approximately 50 gallons of water per room per day by implementing our towel and linen reuse program."
Once hoteliers see the savings on their water bill, they are more open to other ideas, such as low-flow bathroom fixtures.
In the coming months, Morgan will focus her efforts on expanding conservation education efforts among existing participants and introducing Water C.H.A.M.P. to the hotels and motels in the Peace River Basin.
For more information about how you can participate in the Water C.H.A.M.P. program, call Dorian Morgan at 1-800-423-1476, ext. 4782, or visit the District's web site, WaterMatters.org, and click on the water conservation link.