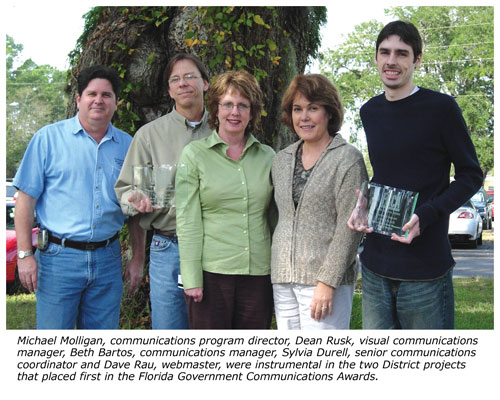 Two District communication projects have taken top honors at this year's Florida Government Communicators Association (FGCA) Awards Banquet.
The FGCA Crystal Awards recognize excellence in government communications.
The District received first-place Crystal Awards for the Who We Are & What We Do brochure and the District's web site, WaterMatters.org.
Who We Are & What We Do Brochure
This single-topic publication provides overviews on major works of the District. The brochure is designed to give the reader a better understanding of the water management district's role in protecting the water resources in its 16-county area.
Beth Bartos, communications manager, Sylvia Durell, senior communications coordinator, and Michael Molligan, communications program director, are the brochure's project managers. Dean Rusk, visual communications manager, designed the brochure.
District Web Site
The web site has more than 1,000 pages and has approximately 25,000 visitors each month. The education and conservation sections have become core access points for environmental information. The web site also provides meeting information, access to maps, and permitting and hydrological data.
Dean Rusk and Dave Rau, webmaster, are the web site's project managers.