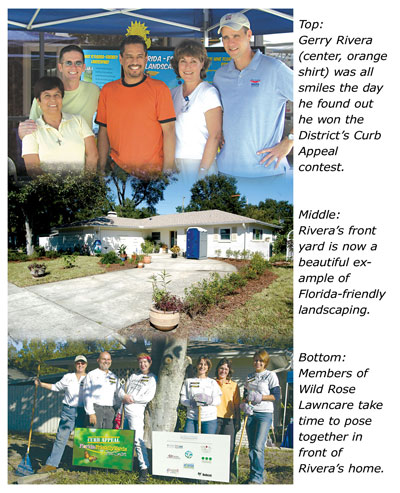 With the growing popularity of home improvement shows, the District turned to a new way to promote Florida-friendly landscaping.
The District participated in a radio promotion called "Curb Appeal." The contest awarded one homeowner with home and landscaping improvements, which included up to $5,000 in new Stanek windows and a front yard makeover of up to a $10,000 value using Florida-friendly plants and landscaping techniques.
The contest was a cooperative effort with Wild Rose Lawncare, Inc., Stanek Windows, Cox Radio and Hillsborough County and Pinellas County Florida Yards & Neighborhoods (FYN) Program staff.
FYN is an education program of the University of Florida/Institute of Food and Agricultural Sciences (UF/IFAS) that promotes landscapes that save water and protect the environment.
The university has cooperative county extension offices, which are branches of IFAS throughout Florida. The IFAS offices provide scientific knowledge and expertise to the public through programs such as the FYN Program. The District funds landscape educational outreach programs in 11 of its 16-county jurisdiction.
"It is important that the District speaks to the public about water conservation and water quality in innovative ways that will grab attention," said Sylvia Durell, District senior communications coordinator. "Partnering with the radio stations, private industry and a landscape company helped us get the Florida-friendly yard message to new audiences."
Just over 300 homeowners from the Tampa Bay area entered the contest. Contestants could enter on either of Cox radio stations' web sites, WDUV or WXGL, or in person at the Stanek Windows showroom. Six finalists were chosen.
A site survey of all six properties was conducted by Durell, Dale Armstrong and Wilma Holley from the Pinellas Extension office, Marina Pryce from the Hillsborough Extension office and Christine Collins of Wild Rose Lawncare, Inc. After reviewing all the finalists' homes, Gerry Rivera's home in Tampa was chosen.
Rivera, who learned about the contest online, submitted an entry hoping to learn more about efficient landscaping practices. He actively practices water conservation techniques and wanted to share what he learned through this project with his neighbors.
"Mr. Rivera was a great candidate for this project," said Durell. "He is enthusiastic about maintaining his new landscape following the nine Florida-friendly principles."
The landscaping part of the project was designed and created by Paul Rauch of Wild Rose Lawncare, Inc. He designed the plans for the new landscape under the guidance of FYN representatives.
The yard illustrated many of the Florida-friendly landscaping best management practices, including soil testing to determine which plants would thrive in Rivera's yard. The finished project included Florida-friendly plants and mulch, which were the focal points of the new design.
Hillsborough County and Pinellas County FYN staff and master gardeners, as well as District staff, contributed toward this project. Other contributions included plants donated by Tampa Bay Wholesale Growers; sod donated by SMR Farms of Manatee County; a micro-irrigation system donated by Mister Landscaper, Inc.; a backhoe machine provided by Bobcat; a birdbath donated by Treemart; and cleaning services donated by All American Lawn and Landscape Services.