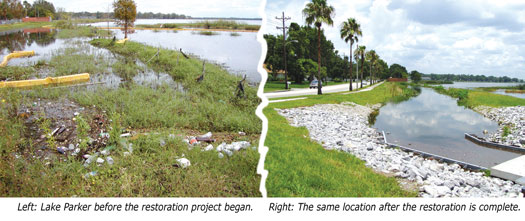 The City of Lakeland and the District have taken significant steps toward improving the water quality in Lake Parker. The first phase of a project was recently completed to reduce pollutants discharging into the lake.
Prior to the completion of this project, stormwater runoff from this 530−acre drainage basin discharged to the lake without any form of treatment. Due to its dense urban development, this basin is particularly susceptible to common pollutants like sediments, oils and greases, nutrients and general trash.
Early on, the District and the City of Lakeland conducted a diagnostic study to determine how to improve the water quality of Lake Parker.
Stormwater samples indicated that most of the pollution originated in the west side of the lake.
"The study identified stormwater treatment as the highest priority management tool to improve or protect the lake's water quality," said Keith Kolasa, environmental scientist for the District.
The study also recommended that dredging be considered as another management tool, particularly in the southwest region of the lake where oozy organic sediments had accumulated from years of stormwater runoff.
The stormwater treatment system was built on approximately two acres of lakefront land, which was purchased by the city. The system consisted of the construction of two wet detention ponds and a diversion or "baffle" box, both built to capture trash and sediments and to filter water before entering the lake.
"About 120 cubic feet of trash is removed from the baffle box after each major rain event," said Kolasa. "It∍s hard to believe such large quantities of trash have been washing into the lake for the past 25 to 30 years."
The project cost $1.59 million. Funding was provided by the City of Lakeland and the District's Peace River Basin Board, which contributed $393,860.
In an ongoing effort to improve the water quality of Lake Parker, this project is the first of several upcoming projects.
Currently, there are plans to design and permit four wet detention ponds located upstream from the initial project area. The additional ponds will enhance treatment of stormwater runoff and further reduce pollutants from entering the lake. The future project retrofit sites are proposed at the intersections of N. Tennessee Avenue and Memorial Boulevard; N. Lake Avenue and Memorial Boulevard; N. Lake Avenue and Parker Street; and N. Morgan Avenue and First Avenue.