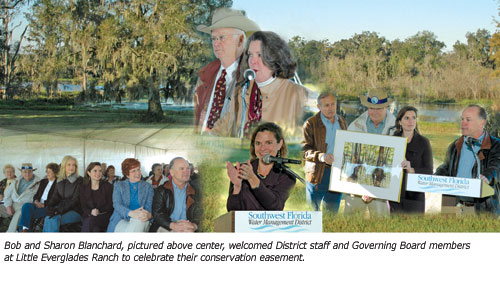 A love of nature led to Bob and Sharon Blanchard's decision to work with the District on two perpetual conservation easements for the Little Everglades Ranch.
"So many people move here for the beauty and wildlife, so it is sad to see all the rural farmland disappearing," said Sharon Blanchard. "We truly love this property and wanted to make sure it is preserved for future generations."
District Governing Board members and staff joined the Blanchards in celebrating the partnership that brought about the acquisition of the conservation easements.
The Little Everglades Ranch consists of 1,798 acres of land located in Dade City in Pasco County. The ranch land is approximately 63 percent uplands and 37 percent wetlands, lakes and streams. It is adjacent to the District's Green Swamp Wilderness Preserve on the east and a portion of the northern and southern boundaries, providing a natural buffer.
The conservation easements were purchased for $3.79 million. Funding for the purchase came from the Florida Forever Trust Fund. The Blanchards, owners of Little Everglades Ranch, also donated part of the land.
The conservation easements will enhance the District's ability to manage the adjacent land and protect and maintain the water quality and natural functions of the land and wetlands system. In addition, the conservation easements will help protect Florida's diverse species and natural communities.
"The District owns and manages the adjacent property and shares a common boundary of two and one-half miles with the Little Everglades Ranch," said Steve Blaschka, land acquisition manager. "Conservation easements create an alternative to landowners facing increased development pressure. It allows the landowner to remain in possession of the land, conserves District preservation funds, keeps the land on the tax rolls and provides the buffering for continued effective management necessary for resource protection."
The Little Everglades Ranch is primarily used for cattle grazing, but it also includes a racetrack, grandstands and related facilities used for an annual steeplechase event. The conservation easements allow for this event to continue, while ensuring that more intensive land use will not occur on the property.