In 1987 the Florida Legislature created the Surface Water Improvement and Management (SWIM) Act to protect, restore and maintain Florida's highly threatened surface water bodies. Under this act, the state's five water management districts identify a list of priority water bodies within their authority and implement plans to improve them.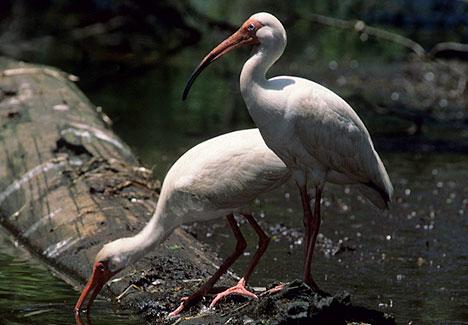 The District's SWIM Program
The Southwest Florida Water Management District's Surface Water Improvement and Management Program is administered through the Natural Systems & Restoration Bureau, which is responsible for many of the District's water quality and natural systems initiatives. With the help of state agencies, local governments and other organizations, the SWIM Program focuses on water quality and natural systems restoration projects to accomplish these initiatives.
Currently, the District's 12 priority water bodies include Tampa Bay, Rainbow River, Crystal River/Kings Bay, Lake Panasoffkee, Charlotte Harbor, Lake Tarpon, Lake Thonotosassa, Winter Haven Chain of Lakes, Sarasota Bay, Weeki Wachee River, Chassahowitzka River and Homosassa River. The list of priority water bodies is updated periodically to reflect changes in the health of individual water bodies.
The SWIM Program evaluates priority water bodies, identifies potential problems and implements projects to improve their water quality or habitat. Since 1987, more than 380 water quality and natural systems restoration projects have been completed or are ongoing.
How SWIM Protects Florida's Water Resources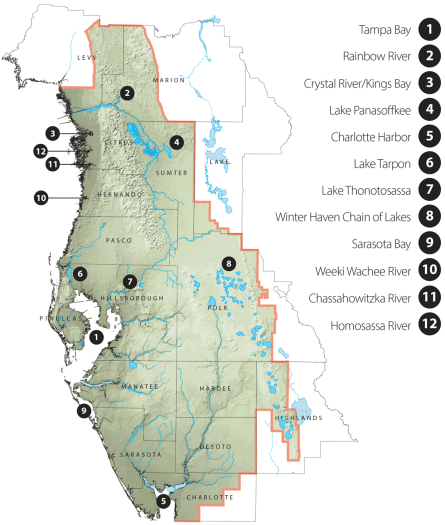 Over the years, Florida's expansive growth and increase in urbanization have altered or eliminated many natural systems, which has decreased local water quality and destroyed habitats. This has played a significant role in the state's economy by impacting the commercials fishing, recreational and tourism industries. The SWIM Program focuses on improving and protecting these natural ecosystems for fish and wildlife, including threatened and endangered species. 
Water Quality
SWIM projects focus on reducing the pollution in stormwater runoff by reducing excess nutrients and other pollutants which affect water quality. The District and its partners have implemented projects which have provided water quality treatment of more than 230,000 acres of watershed.
Natural Systems
SWIM projects also restore degraded or destroyed natural systems, enhance existing habitats, and promote the preservation of natural habitats. Since 1987, the SWIM Program has restored more than 15,000 acres of freshwater, estuarine, and upland habitat.