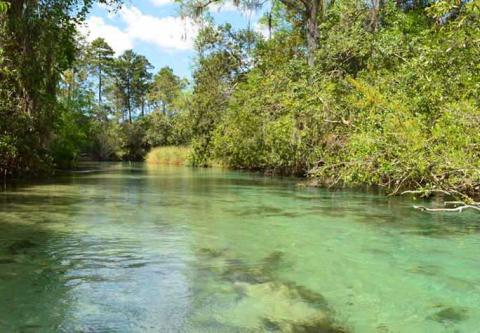 Highlights
Weeki Wachee Springs are the headwaters of the Weeki Wachee River
The headspring is home to Weeki Wachee Springs State Park, which features a water park and the famous underwater mermaid show 
Located in Hernando County
First magnitude spring: 260-square-mile springshed
Challenges
Four main challenges exist in the Weeki Wachee River and springshed: 
Potential decrease in historic flows

Elevated nitrate levels, which can be harmful to aquatic insects, amphibians and fish.

Altered aquatic vegetation including increased filamentous Lyngbya algae, which can lead to reduced water clarity and extreme fluctuations in dissolved oxygen, stressing aquatic life.

Sedimentation, mostly due to bank erosion, which has smothered aquatic vegetation and other beneficial habitats.
Strategies
Through cooperation with other government agencies, these challenges are met by:
Improve water quality through improvements in local septic tanks, urban and residential fertilizer use, and agricultural operations

Improve water quantity through conservation and alternative water supply

Improve natural systems through habitat conservation and recreation management

Implement management actions and projects identified in the Weeki Wachee River SWIM Plan
Success Indicators
Successful implementation is indicated by:
Improved water clarity within the river and headspring

Decreased nitrate concentration in the river (<0.20 mg/L)

Meeting the required minimum river flow

Increased desirable aquatic vegetation and decreased invasive aquatic vegetation including Lyngbya algae
Future goals will be developed through an adaptive management process, always striving to help restore Florida's natural ecosystems.