New Governing Board Member Sworn In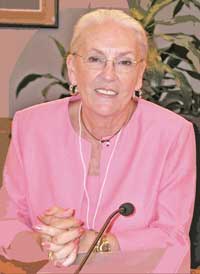 New Governing Board member Pat Symons is getting used to her role at the District. Gov. Jeb Bush appointed Symons in March.
Patsy C. Symons of Arcadia is owner/president of Symons Groves, Inc. Symons succeeds Pamela L. Fentress, whose term expired March 1, 2004. Symons also assumed responsibility as co-chair ex officio of the District's Peace River Basin Board.
Ms. Symons says she applied to become a board member because of the serious water situation DeSoto County and Florida are facing.
"I'm impressed with the Governing Board and the Basin Board," said Symons. "I will do my best to serve both boards and the people in my county."
Symons' term ends March 1, 2008.