Board Elects New Officers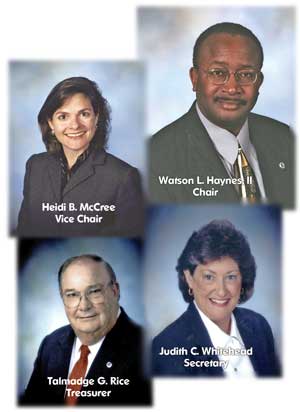 During the spring election, the Governing Board chose four people to provide the Board's leadership during the next year.
Watson L. Haynes, II was elected chair. Haynes was appointed to the Governing Board in March 1999 and previously served as the Governing Board's vice chair and treasurer. Haynes is the first African-American to be elected to serve a full-term as Governing Board chair. He thanked the Governing Board members for their vote of confidence in selecting him.
"We were appointed by the Governor to provide leadership for water resources management, and I will fulfill this obligation," Haynes said. "We were selected to make difficult decisions — decisions that will affect our ability to meet our water supply needs while ensuring a sustainable water supply and a protected environment."
Heidi B. McCree of Tampa was elected vice chair. She was appointed to the Governing Board in September 2000 and previously served as the Governing Board's secretary. McCree is an attorney and former executive director of the Hillsborough River Greenways Task Force.
Two relatively new Governing Board members are also getting a chance at leadership roles.
Judith C. "Judy" Whitehead and Talmadge G. "Jerry" Rice were both appointed to the Governing Board in March 2003. Whitehead was elected secretary. Rice was elected treasurer.
Whitehead is from Brooksville. She is the owner of Residential Appraisal Service. Rice is from Dade City. He is self-employed in real estate sales and marketing, consulting and cattle ranching.
Board officers are allowed to serve no more than two consecutive one-year terms in the same office.
Governing Board members are unpaid, citizen volunteers who are appointed by the Governor for a four-year term and confirmed by the Florida Senate. The 11-member Governing Board sets policy for the District, whose mission is to manage the water and related resources of west-central Florida to meet the needs of current and future water users while protecting the environment.