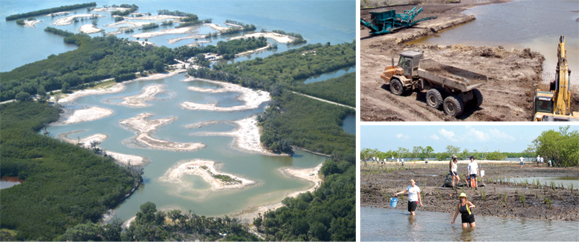 Left, The intricate designs of two freshly planted intertidal lagoon systems mimic Mother Nature, incorporating various estuarine habitats. The design includes high-marsh and transitional zones in anticipation of rising sea levels, which will allow wetland platforms to migrate up the slopes over time. Top right, a tidal lagoon starts to take shape in place of an Australian pine forest that previously occupied the site. Bottom right, volunteers work to install 34,000 marsh plants at a record-breaking two-hour event in 2007.
The largest ecosystem restoration project ever performed on Tampa Bay is entering its final phases.
The 1,100-acre restoration project encompasses a mosaic of estuarine and freshwater wetland habitats as well as coastal upland communities.
Construction and restoration of wetlands will reduce pollutants and improve the quality of stormwater runoff flowing into Tampa Bay. It will also provide valuable habitats for Tampa Bay fisheries and other coastal wildlife, including bird populations and small mammals and a host of invertebrates such as crabs, shrimp and oysters.
The Terra Ceia Ecosystem Restoration Project is spearheaded by the District's Surface Water Improvement and Management (SWIM) Program in collaboration with the Terra Ceia State Park and Aquatic Preserve Programs of the Florida Department of Environmental Protection.
"We don't often have the chance to work on projects of this size, especially in the Tampa Bay area," said Brandt Henningsen, District chief environmental scientist. "The project has already had a tremendous impact on the Terra Ceia area. We're excited about what we'll be able to accomplish as we complete the project over the next couple of years."
The multi-phase restoration effort, located in the southeastern reaches of Tampa Bay in Manatee County, began with a planning phase in 2000. One of two wetland restoration phases and six of eight upland restoration phases are already complete.
The Terra Ceia Ecosystem Restoration Project is the result of a joint acquisition between the District and the state to protect the coastal resources of Tampa Bay. Tampa Bay is the District's top priority SWIM Program waterbody and is considered an "estuary of national significance."
Upland restoration efforts included removal of nonnative vegetation and planting of native species. The exotic vegetation, primarily Brazilian pepper and Australian pine trees, is notorious for growing quickly, out-competing other species. South Florida slash pines and saw palmettos are being used to create a pine flatwood. Understory shrubs, including beautyberry, coral bean, small live oak and cedar trees, are also being used to supplement existing hardwood hammock areas.
The District is funding $2.9 million of the project's $8.6 million cost. Once complete, about 200 acres of wetlands and 900 acres of uplands will be restored.