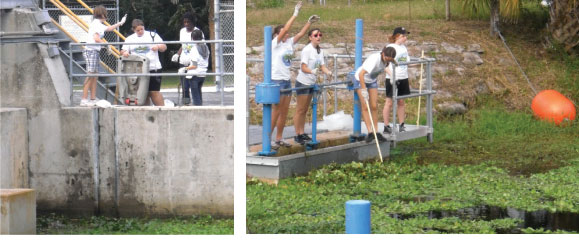 Plant City High School students clear debris from the District's Channel G Salinity Barrier.
Volunteers recently gathered at a District structure to help prevent trash from traveling to Tampa Bay.
National Honor Society club members and sponsors from Plant City High School gathered trash from the structure on Channel G as part of the 2011 International Coastal Cleanup. Channel G directs flows from Rocky Creek in western Hillsborough County into Old Tampa Bay.
During the annual event, volunteers all over the world spend a day picking up trash along waterways. Because trash travels to the ocean by way of storm drains and waterways, they work far inland, as well as along coastal beaches.
"Stormwater flowing to this structure carries trash and other debris," said David Crane, Structure Operations Section manager. "When we heard that volunteers wanted to help out, we wanted to help any way we could."
Crane took the cleanup event organizers on a tour of the structure so they would know what to expect. On cleanup day, District staff provided a safe working environment, making sure that the structures would not operate during the cleanup.
The Plant City High School volunteers worked upstream of the Channel G Salinity Barrier in Town 'N' Country. The structure helps prevent saltwater intrusion into freshwater systems. Debris can build up on the upstream sides of the structure, and during heavy rain events when the gates are opened, the trash can flow downstream.
Students picked up trash along the banks upstream of the barrier. They also used poles to fish trash out of the water, and ropes to corral floating debris.
"Channel G directs flow from Rocky Creek into Old Tampa Bay," said Crane. "These volunteers took care of trash that potentially could have flowed with stormwater into the bay."