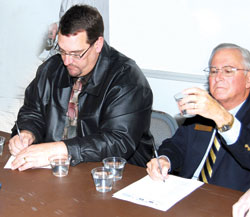 Tampa Tribune food critic Jeff Houck, left, and Governing Board Secretary Paul Senft, right, put water samples to the test.
Governing Board Secretary Paul Senft set out to find the best drinking water in the region. When he found it, he helped crown Hernando County as the winner of the Region IV 2010 Best-Tasting Drinking Water Contest on Feb. 26 in Zephyrhills.
The contest was sponsored by Region IV of the Florida Section of the American Water Works Association. The region covers Citrus, Hernando, Hillsborough, Pasco, Pinellas, Polk and Sumter counties.
Senft joined four other judges to find the region's best water. The judges included Jeff Houck, Tampa Tribune food critic; Gwen Shofner, Florida Department of Environmental Protection; Steve Spina, Zephyrhills city manager; and Bill Johnson, former director of St. Petersburg Utilities. The city of Zephyrhills won the 2009 contest but lost to Hernando County this year.
Senft said all the samples were good.
"It's amazing how close they were," Senft said. "It was tough to distinguish a winner when we were comparing water samples that were all excellent."
Hernando County received an engraved plaque, the utility's name engraved on Region IV's revolving trophy and a year's worth of "bragging rights" as having the best-tasting drinking water in the seven-county region. Hernando also represented the region in the state contest April 8 but was bested by the Ave Maria Utility Company in Collier County.