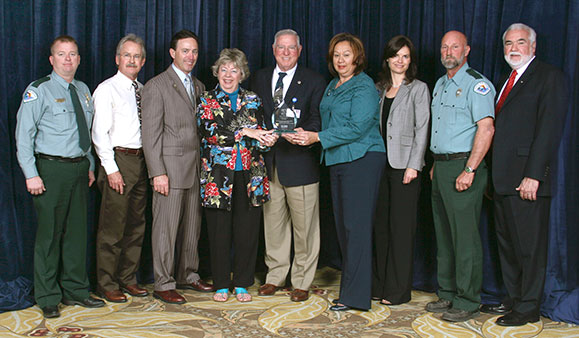 District Governing Board members and staff; Tampa Bay Regional Planning Council members; and Florida Department of Environmental Protection officers display the Future of the Region Award.
The Tampa Bay Regional Planning Council and the Florida Public Relations Association recently recognized several District programs.
In March the Tampa Bay Regional Planning Council presented the 18th Annual Future of the Region Awards. These awards highlight projects and programs that exemplify regionalism and recognize outstanding achievement and contribution, which benefit the regional community.
The Terra Ceia Ecosystem Restoration Project, the largest ecosystem restoration project ever performed on Tampa Bay, received second place in the environment category. The project was spearheaded by the District's Surface Water Improvement and Management (SWIM) Program in collaboration with the Terra Ceia State Park and Aquatic Preserve Programs of the Florida Department of Environmental Protection. The project restored a mosaic of 618 acres of various estuarine and freshwater wetland habitats as well as coastal upland communities.
District Communications staff received an honorable mention for their four-year drought public education campaign. To raise public awareness and promote water conservation during the four-year drought, the District conducted an education campaign that included public service advertising, outreach to the media, integration into District programs and activities, and outreach through HOAs, utility bill inserts, conservation signs, online tools, email blasts and social networking.
In addition, the Tampa Bay Chapter of the Florida Public Relations Association awarded District Communications staff with an Award of Distinction at its 2010 Image Awards in April for the "Get Outside!" recreation campaign. The "Get Outside!" campaign is based on research that focuses on increasing appreciation and knowledge of the environment, support for land acquisition and management programs, diversity and youth participation in experiencing recreation on conservation lands, and awareness that District lands are available for public use.