St. Petersburg Attorney Represents Pinellas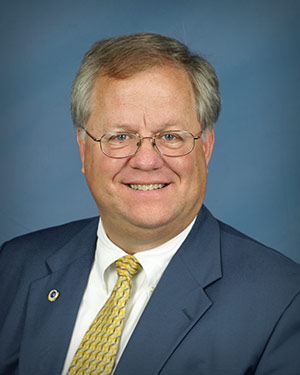 Jeffrey M. Adams
Jeffrey M. Adams was sworn into office at the District's April Governing Board meeting.
Adams, an attorney who lives in St. Petersburg, was appointed by Gov. Charlie Crist to represent Pinellas County on the District's Governing Board. He will also serve as the co-chair of the Pinellas-Anclote River Basin Board.
An Illinois native, Adams graduated from Carl Sandburg High School in Orland Park, Illinois, and went on to earn a bachelor's degree from Oral Roberts University in Tulsa, Oklahoma. Adams also earned a juris doctor degree from Stetson University College of Law in Gulfport, Florida, and has been admitted to both the Florida and Illinois bars.
Adams has spent his entire professional career with the law firm of Abbey, Adams, LLP. He began clerking for the firm while attending Stetson University. After graduating, Adams was employed as an associate, and he became a partner in 1989.
A board-certified civil trial lawyer, Adams has extensive experience in insurance defense and has conducted seminars, testified as an expert in legal issues and served on numerous arbitration panels. He is a member of the St. Petersburg Bar Association, the Sports Lawyers Association and the Florida Defense Lawyers Association. He is also a past member of the Florida Bar Evidence Code and Rules Committee and is a charter fellow in the Litigation Counsel of America.
In addition to his legal experience, Adams has held numerous leadership positions in a variety of organizations. He has served as chairman of the Florida Sports Foundation and the Tampa Bay Sports Commission as well as president of the St. Petersburg Country Club. He has also served on the Baseball Antitrust Advisory Commission, the St. Petersburg College Foundation Board, the St. Pete/Clearwater Sports Foundation Board and the Tampa Bay Convention and Visitors Bureau Executive Board. In addition, Adams is an alumnus of Leadership St. Petersburg.
Adams' term expires March 1, 2014.