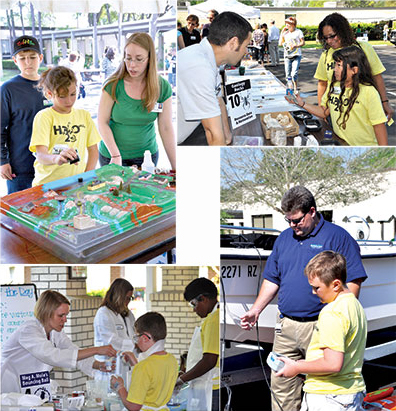 Clockwise from above: Terese Power, staff engineer, uses a watershed model to show how pollution works its way into rivers and lakes. Jason LaRoche, professional geologist, shows kids that "geology rocks." Chris Barnes, student intern, demonstrates water quality field testing. Shannon Maynard, chemist, helps a student mix up a chemistry demonstration.
Nearly 120 children learned about District jobs April 22 at the District's 14th annual celebration of Take Our Daughters and Sons to Work Day.
Employees filled the Brooksville campus with 18 activity booths to teach children about mapping, chemistry, data management, conservation and more. Parents also brought their children to the District's offices in Bartow, Sarasota and Tampa.
"We had great support from the staff," said Joe VanDyke, District senior human resources generalist, "and some imaginative booths at the Brooksville headquarters. The staff really worked hard to make it a memorable day for the kids."
Students between the ages of nine and 18 were encouraged to take advantage of all the opportunities District lands provide, with this year's theme being "Hip To Be Outside."
Land Resources staff helped set the tone for the outdoors theme.
"We wanted to reproduce some of the elements of the 'Get Outside!' events," said Carmen Sanders, District senior land use specialist. "We pitched in and put together a campground."
The campground was complete with a tent and campfire where kids could cook s'mores. The campsite even had a horse on display. Students saw how to properly set up a camp. They also went on a nature hike around the Brooksville campus to identify native plants before returning to the exhibit area to enjoy the rest of the displays.
At the end of the morning, the kids voted for their favorite activities. Information Resources sponsored the Kids Choice Award winner: The Cosmo Kid. Using spray paint and common household items — cooking pot lids, scrap paper — local artist Todd "Cosmo" Kenyon produced artwork for the kids.
The Brooksville Regulation Department booth on watersheds was also popular with the kids, as was the "Move It!" display from the Finance Department. Following the outdoors theme, Finance staff used boating, fishing, dancing and tricycle activities to show kids what they could do on District lands.
"Take Our Daughters and Sons to Work Day" is a nationwide learning program that allows children to explore the many opportunities available to them in the workplace. The program began as "Take Our Daughters to Work Day" in 1994 and has now grown to include sons.