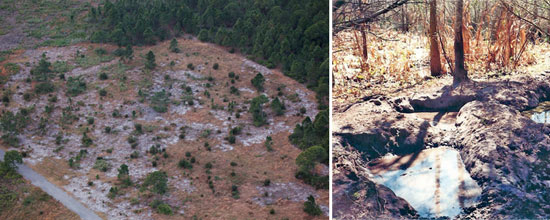 Left: Aerial photo of hog damage at the District's Myakka River—Schewe Tract in Sarasota County. Right: Hog damage on District's Upper Hillsborough—Alston Tract in Pasco County.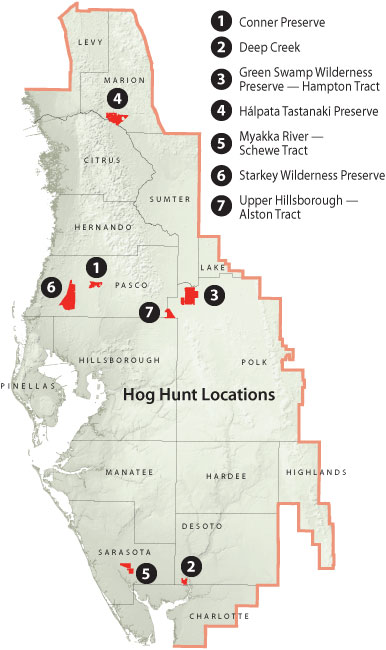 Beginning Oct. 13, prospective hunters can purchase permits for these hunts on the District's web site at WaterMatters.org/hoghunts/. Permits will be available through 5 p.m. on Nov. 3, or until they are sold out. The cost is $50 for each permit.
The District-managed properties will be temporarily closed to the public during the hog hunts. Only permitted hunters will be allowed access.
Wild hogs are not native to Florida and are believed to have been introduced by explorer Hernando DeSoto as early as 1539. They can weigh more than 150 pounds and travel in herds of several females and their offspring.
Wild hogs live throughout Florida in various habitats, but they prefer moist forests and swamps, as well as pine flatwoods. They are omnivorous and feed by rooting with their broad snouts, which can cause extensive damage to the natural habitats. In fact, they can leave an area looking like a plowed field.
The District only allows hogs to be controlled through hunts when the damage they cause is at unacceptable levels, and damage is occurring more frequently and with increasing severity.
In addition to obtaining a permit online, maps of the areas where the hunts will take place are available on the District's web site.