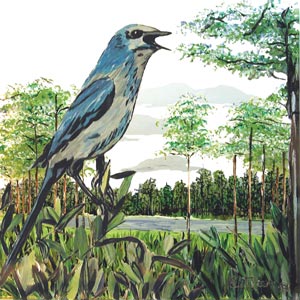 The award is a glass coaster set. A scene is painted on each coaster. When stacked together, they form a 3-D scene of ths mock-up.
This November the District will recognize the very best in District-sponsored community and youth water resources education projects at the Partners in Watershed Education ceremony.
To select this year's 32 award-winning projects, District staff reviewed education projects completed through District grant programs by teachers and their students, community members, local governments and nonprofit groups. District-sponsored programs that use volunteers to educate others about water resources were also considered.
The focus on grants and volunteer programs enables the District to recognize some of the individuals who play an important role in teaching students and community members the importance of water resources.
Projects from throughout the 16 counties that make up the District were considered.
"This is a great opportunity to recognize people who are helping the District spread the word about protecting our water resources," said David Moore, District executive director. "This is just a small way to say thank you to them for making such a big difference to our environment."
The award-winning projects will be announced November 8 at the Lake Mirror Complex in Lakeland. In addition to the awards ceremony, attendees will have the opportunity to tour the Hollis Gardens.