District Kudos
The District was recently recognized nationally for combining function with environmentally friendly building and landscaping practices at its Sarasota Service Office.
The National Commercial Builders Council of the National Association of Home Builders awarded the District the Chairman's Award for excellence in commercial construction.
"This is a very prestigious national award," said project manager Nick Spirakis. General Services Director Lloyd Roberts agreed. "It is always appreciated when experts in your field, who have the ability to identify exceptional projects, recognize your efforts."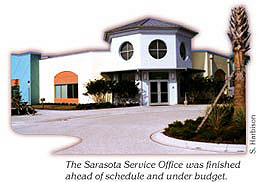 Some of the important building and landscaping practices featured in the Sarasota service office include: open ceilings and gloss paint to provide reflectivity of natural light, tinted thermopane windows to minimize heat gain, motion detection systems to ensure that the energy efficient lighting systems aren't in use unnecessarily, low-volume plumbing fixtures and water restriction devices, the highest efficiency rooftop HVAC units, and a landscape irrigation system that is ready for reclaimed water when it is available. The construction methods minimized cost and met local requirements for hurricane protection.
The firms and professionals who worked on the service office were also recognized. They include: Manasota Commercial Construction Company, The ADP Group, Inc., Alden & Associates and Boyle Engineering Corporation.