Education in Action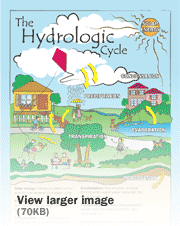 Mother Earth didn't change the way she moves water through the cycle, District staff just thought of a better way to teach it. That's the story behind the new and improved hydrologic cycle poster that's hitting elementary school classrooms across the District.
The new poster was developed because Youth Education staff felt the circular model was teaching a misconception. By looking at the old wheel-like model, kids may think the stages of the water cycle happen in one particular order when they can happen simultaneously, or at different times.
"The idea for the new poster was spurred on by last spring's Celebrate! Water Conservation event," said Becky Bray, Youth Education coordinator. "We developed similar materials for the event and because they were so popular we decided to create a standard hydrologic poster using the same characteristics."
Project manager Jessica Pawelkop worked with graphic illustrator Allen Yarbrough to create a colorful, fun and informative poster. The poster was also developed into a coloring sheet that can be used as a separate additional activity.
"The new poster is also a great companion to the water cycle wrist bands we use in the classroom," said Jessica.
Recently, Jessica used the poster at a University of South Florida new teacher training event that prepares teachers for the classroom. Teacher feedback from that training indicated the poster will be useful to K-6 teachers.
This poster and all other educational materials are available at no cost upon request. If you are interested in getting the new poster or other educational materials, please call the District's Communications Department at 1-800-423-1476, extension 4757.