Longevity Recognized
When Ron Vanlerberghe started working at the District, Lyndon B. Johnson was president, Florida was home to just over 6 million people, and the first issue of the alternative magazine "Rolling Stone" was about to hit newsstands. Thirty-five years later a lot has changed in our world, as well as the District. Florida now has more than 16 million people, "Rolling Stone" is considered mainstream, and Ron has become the longest serving District employee.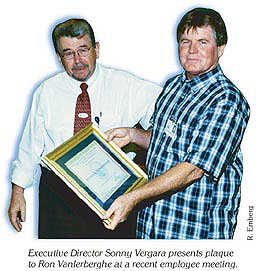 Ron was born in Michigan and moved to Florida in 1957. He went to school in Hernando County and started working at the District in August 1967 in the Survey Section as a "rodman" on a survey crew after a friend who worked at the District told him about the opening. The crew was working in the Green Swamp his first day on the job.
Working in the field in the late sixties and early seventies involved a lot of challenges. The survey crews did not have radio communication in the field. Employees had to walk to someone's house to use the phone to call for help if the truck was stuck or broken down, or worse, if someone got hurt. They also didn't have calculators in the field. Staff members had to do the calculations by hand and have their coworkers double-check them.
"When I started there were only two buildings at the District. There was Building 1, which was half its current size, and the auto shop, which is now the print shop," said Vanlerberghe.
…Ron has become the longest serving District employee.
Ron worked his way up to a "chainman" and an Engineering Tech 1 within two years. The term "chainman" came about before electronic measurements. A chainman is the person who manually measures distance with a 100 ft. tape. At one time, the tape was actually a chain.
Ron left the District for active duty in the U.S. Army from February 1969 through September 1971. He attended artillery survey school in Oklahoma and spent time at Ft. Carson in Colorado and Ft. Bragg in North Carolina. At that time employers were required to keep a service person's job open for them so Ron returned to the District after his discharge. Ron was promoted to an Engineering Tech 2, and continued earning promotions.
In September 1983, Ron joined the Data Collection and Regional Analysis Section (Resource Regulation) as a Water Resource Tech 3. Three years later he was promoted to a lead staff position. In December 1987 he was promoted to his current position as Data Collection Field Supervisor. Ron supervised the transition from purely manual data collection methods to mechanical data recorders to state-of-the art electronic collection.
According to Ron, "This was accomplished with a lot of hard work and dedication by my coworkers."
In all, Ron spent 14 years in the Survey Section and 19 years in Data Collection. He's been with the District so long he's been through multiple District reorganizations, placing him in the Engineering, Planning, Resource Regulation, and Resource Data Departments, and twice in the Operations Department.
"I worked with a lot of great people over the years," says Vanlerberghe, "I am going to miss the daily challenges of my job and the staff I work with."
Ron says don't look for him to be the first District 40-year employee because he plans on retiring in June. He is looking forward to retirement, and plans to travel and work on his house. When asked about where he'd like to go, Ron said he'd like to see the New England area.
"It will be nice to be able to go when I want to," said Ron.