Over time, the springs' water quality and amount of water they discharge have been threatened by both human activities and natural factors.
The challenges facing our springs include: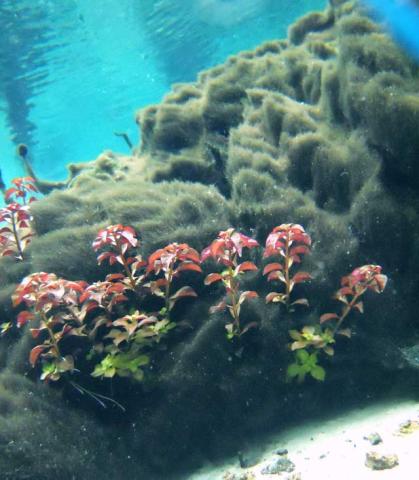 Increases in nutrients like nitrogen and phosphorus due to development in springsheds, excessive fertilizer use and failing septic tanks. Excess nitrate levels in water can be harmful to aquatic insects, amphibians and fish. If algae have an unlimited source of nitrates, excess growth may occur. Large amounts of algae growth can cause reduced water clarity and extreme fluctuations in dissolved oxygen, which is stressful to aquatic life.
Loss of habitat from invasive aquatic plant and algae species, such as Hydrilla and Lyngbya, as well as from development, sea walls and canals.
Reductions in discharge during the past 60 years. Discharge affects flow in a spring system, and flow plays a significant role in maintaining the ecological health of many springs. Rainfall patterns strongly influence the amount of groundwater that discharges from a spring, and there has been a steady decline in rainfall since the 1960s. While rainfall has the biggest impact on spring flow, groundwater withdrawals from the Floridan aquifer also can affect the rate of flow. However, aquifer water levels and groundwater use have remained stable in the Springs Coast region due to increased conservation, use of reclaimed water and a smaller population. 
Increases in salinity due to flow declines and sea-level rise. The closest long-term NOAA station to the Springs Coast is located at Cedar Key. The station has shown a local sea-level rise of 1 foot since monitoring began in the early 1900s. Chassahowitzka, Crystal River/Kings Bay, Homosassa and Weeki Wachee sysems all have seen a shift to more brackish ecosystems attributed to sea-level rise and a steady decline in rainfall and spring discharge. As a result, freshwater vegetation has a hard time surviving in this saltier environment and unwanted vegetation moves in.
Recreation by visitors to springs.

An ecological study found direct links between recreational activities and environmental impacts. For example, visitors who leave their kayaks, canoes and boats may trample vegetation and erode riverbanks and sand point bars. Also, those who climb or jump/swing from trees can damage the trees.